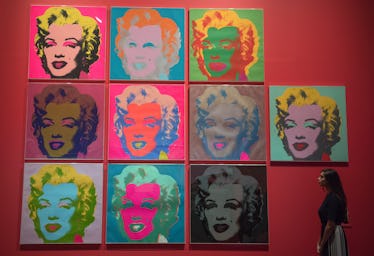 If You're Having Trouble Getting The Google Arts & Culture App, This Could Be Why
Carl Court/Getty Images News/Getty Images
If you're at all active on your Facebook page, I'm sure you've seen the at least one of these pictures posted: one of your friend's selfies that has been analyzed and matched up with their fine art look-alike. The "doppelgänger" split-image posts are taking over social media lately, but where are they coming from? You have Google's Arts & Culture app to thank for that. But not everyone has been able to access the fun app. So if you're asking yourself "Why can't I use the Google Arts and Culture app?" and find your painted twin, there's a simple reason why.
Although this app has been around for about a year and a half, it's been gaining more attention recently due to its new selfie-fine-art-lookalike-matching feature. But despite the attention that this feature is getting, the face-matching option is not available to everyone in the United States. Apparently, if you live in Texas or Illinois, you're left out of the artsy fun. Why? According to The Houston Chronicle, the answer might lie in the fact that those two states have strict biometric privacy laws which forbid using technology to identify people without their consent. Elite Daily has reached out to Google for comment, but did not receive a reply by the time of publication.
You might be out of luck if you're outside the United States, too. According to TechCrunch, the app isn't available outside the U.S., reportedly due to the fact that the feature is in its beta testing phase and Google wants to limit its availability while the software is fine-tuned. Bad luck for all the jetsetters. Sorry, guys.
It's reasonable why those that can't access the full version of the app are feeling left out, because this single feature has made Google Arts & Culture into an overnight success. The app has gained so much traction due to this new feature that it jumped to the number one spot on the Apple App Store, and remains in that top spot as of Jan. 16.
The way it works is pretty simple. Using the app, you take a selfie of yourself, and then Google does the rest of the work. It uses "machine learning" to recognize a person's face in the selfie you submit. According to The Washington Post, the app's software even scans the way your head is positioned. Your image is then compared to celebrated fine-art portraits pulled from more than 1,200 museums in more than 70 countries until the app finds the face with the highest-matching percentage rate.
People are sharing their results with friends all over social media.
Some people have been absolutely loving the face-matching feature.
While others are getting frustrated with the app and the matches they've been getting.
As much as the app and face-matching are popular, it has also definitely raised some eyebrows as to what Google's ulterior motives for collecting selfies might be. Actress Alyssa Milano tweeted about the face-matching technology and questioned users' confidence in trusting the tech company with their faces. "Anyone suspicious of just surrendering your facial recognition to google or are we confident they already have that at this point?" she asked.
But if you're worried about your privacy, Google wants to assure you that you have no reason to be worried. Company spokesperson Patrick Lenihan has asserted that, "Google is not using these selfies for anything other than art matches." The app itself also states in one of its prompts that Google will only save the image you submit for however long it takes for the app to match your selfie to a work of art.
This feature from Google is just the latest in the facial recognition software push that is seemingly taking over the tech industry.
You may have given into Face ID already, even if you don't own an iPhone X. Google has already implemented facial recognition technology in its Photos service, which 500 million people use every month. When Apple announced in September that the latest model of the iPhone would now use a camera that scans your face to unlock your device instead of your fingerprint, some consumers became concerned about the need for this of this kind of feature.
But despite the negative backlash about facial recognition technology, it seems as though this is the way of the future and we won't be able to avoid it for much longer. What you can do is read the fine print in the "Terms and Conditions" of any app or other software you download and make sure that you know what you're getting yourself into, and what information and privacy of yours that you keep retained.
And for anyone waiting to test out this new feature on the Google Arts & Culture app for themselves, hopefully your time with the app will come.