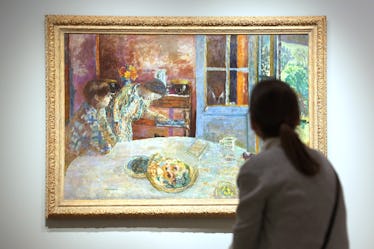 This Google App Compares Your Selfies To Museum Portraits & It's So, So Accurate
Hannelore Foerster/Getty Images Entertainment/Getty Images
When I went abroad my junior year of college, one of my favorite activities was wandering through museums. For hours at a time, while I immersed myself in centuries of art, I found it highly entertaining to find peoples' paintings that somewhat resembled me or the friends I was traveling with. But if you're just trying to learn about a little art and find your dopplegänger from the comfort of your smart phone, there's literally an app for that. This is how to use the "Google Arts & Culture" app, which can find your museum portrait look-alike all based on a selfie. It's super fun and pretty freaking accurate.
As long as you're not selfie shy (because honestly, why should you be?), the highly regarded Google Arts & Culture app will make you feel like the artsy fartsy hipster that you are, deep, deep down. It not only finds your spot-on portrait look-alike, but then proceeds to educate you on your painting dopplegänger. So you also get to learn a thing or two! And that's always nice.
The only catch of the Google Arts & Culture App is that you aren't able to use that hella sexy bathroom selfie you took in the club bathroom last night. Damnit. We know, it's a major disappointment since you "werked" so hard for that snapshot. As someone who takes a hundred selfies before actually deciding on which one to post, I am seriously dreading the anxiety of snapping the perfect pic immediately. But don't worry, we're all struggling together.
To find that ever-elusive art dopplegänger, first download Google Arts & Culture, which can be easily located in the App store. According to Bustle, you'll first be brought to the homepage, where you'll scroll to see a button that says, "Get Started."
Next, you'll be instructed to take that dreaded on-the-spot selfie. Once your photo and results load, you'll be prompted to swipe left, which will ultimately reveal your matches. It ranks each match based on percentage, which shows how well your face matches theirs. The results are not in any way, shape, or form a disappointment; they're surprisingly on-point. And based on your expression, they can turn out super funny.
Some of the matches are really bizarre, though, and according to Bustle, it's because the app is still adjusting and rolling out the kinks. We're feeling a bit bad for all of the unfortunate souls who were paired with some really disturbing paintings... like this guy who was compared to someone eating a baby. It wasn't his best look, but at least he doesn't look that way all the time.
This is quite a comparison. Her eyes definitely aren't that red.
Being compared to a sick woman isn't exactly a compliment either, but it happens to the best of us.
The "paint in 3D" option guides users through thousands of virtual digital exhibits from the comfort of your living room, hammock, or even your favorite bean bag chair. If you're interested in taking more of those gorgeous selfies, you can discover even more paintings out there. The selfies, as well as that fantastic education, never end.
To get this app up and running, Bustle explains that Google partnered with a variety of art museums. Using technology to preserve the art, Google Arts & Culture educates users on some good old art history. It also allows users to go on several other wild virtual adventures. With access to thousands of different types of museums, there's no denying that Google has given us some lit historical entertainment up in here — and I am throughly enjoying it.
Check out the entire Gen Why series and other videos on Facebook and the Bustle app across Apple TV, Roku, and Amazon Fire TV.