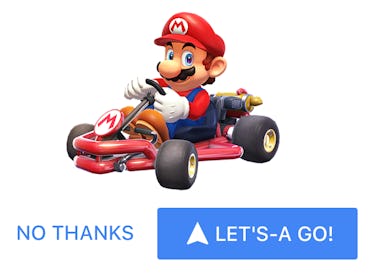 If You Can't See Mario On Google Maps, Here's What You Might Be Doing Wrong
Amanda Fama
When Mario first started cruising around Google Maps on March 10, I was feeling some serious FOMO. Why? Because I was having trouble getting his red whip on the screen instead of the normal Google arrow. As a Mario Kart enthusiast (and champion) from a young age, having Mario on my Google Maps screen was essential, and not knowing how to get him there really put a damper on my traveling endeavors. Luckily, I was able to figure out why the famous lil' plumber wasn't appearing on my screen — and the reasons were simple. If you're impatiently asking yourself why you can't get Mario on Google Maps, allow me to explain.
There are a few simple reasons why Mario isn't showing up on your screen — but first, let's talk about why he's supposed to be there in the first place. In honor of Mario Day on March 10 (aka MAR10), Google Maps collaborated with the team at Nintendo to help Mario hit the streets for an entire week. That's right: Mario will be riding around your Google Maps screen until March 17, so enjoy some one-on-one travel time with your favorite racer. (Make sure you don't throw any bananas at other drivers, though. That wouldn't be cool.)
Now that you know why Mario is driving around Google Maps, let's talk about why he isn't showing up on your screen. If you're having trouble bringing the character to life, there are a few reasons why.