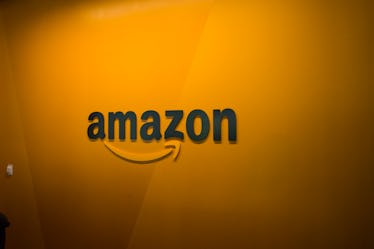 This May Be Why You Can't See Amazon Prime Day Deals — & There's An Easy Fix
David Ryder/Getty Images News/Getty Images
Some people like to roll up to the mall on a stomach full of turkey and sweet potato pie for Black Friday deals. Other folks like to scour the Internet after a weekend of relaxation on Cyber Monday. But me, I like Amazon Prime Day the best, probably because Amazon is one of the sites I shop the most. But if you've opened Amazon on July 16, and aren't seeing what all the fuss is about, you might thinking, why can't I find Amazon Prime Day 2018 sales? Allow me to be your Amazon Prime Day guru and help navigate you through.
Are you on your phone or computer? Do you have Amazon.com pulled up? Are you still not seeing a whole bunch of amazing deals pop up? Well, then there might be a very simple fix: first make sure the sales have started. (Remember, Prime Day deals don't kick off until 3 p.m. ET on Monday, July 16.)
Now that you know when the Prime Day show is starting and have checked your clocks, are you a Prime member? If you're not a member then you can't shop the wonderland of deals Prime day has to offer. Don't worry, if for some reason you've survived this long without signing up, you can do it now. Head on over to Amazon's sign-up page and get yourself a zero-commitment free 30-day trial. Yes, that's an option that's available, because Amazon loves you. If during your trial you realize that Prime's a necessity you just can't live without, then keep with it for $12.99 per month. But, if for some reason you're not infatuated with Prime membership, then just cancel before the trial's up and you won't be charged. It's basically risk-free.
Now if you're already a Prime member and not seeing the sales you want, try skimming the Amazon Prime Day page for a rundown of all the sales happening and when they're each set to begin. The page has all the deal info you need, as well as any other vital information for Prime Day.
If you've been using your browser this whole time, think about downloading the Amazon app and try your luck that way. The app is the easiest way to get your hands on Prime Day deals. Just download, and click "Today's Deals." From there you can scroll through the offerings and click "Watch This Item" to get notified when the items you have your eye-on go on sale. The app is great for making sure you don't miss out.
Make sure you've gone through all the steps I've just provided for you. If not you'll be missing out on deals on Amazon electronics like FireTV and tablets. For instance, on Prime Day score an Alexa-enabled Echo Show for $130 or an Echo Dot for only $34.99. It's not limited to tech either: on July 16 starting at 3 p.m. ET you can get your hands on a Dash Compact Air Fryer for 20 percent off for some guilt-free fries, according to Time. Business Insider says there's over a million deals happening worldwide on Prime Day, so don't be one of the sad folks who misses out. Think of how terrible it'll be if you don't take advantage of this glorious day and have to see all the Amazon packages your roommate's gonna get in the mail. Don't let it happen to you.
To recap, here's your checklist: make sure you're a Prime member, go to the Amazon Prime page, try using the app and watch some deals. Follow those steps and I'm sure you'll see the deals rolling in. Now if you'll excuse me, I'm going to go buy a bunch of things I don't need because they're on sale. I just cleaned out my closet and desperately need to clutter it up again to restore order. So, happy shopping! Byee.