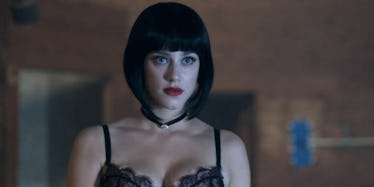 Lili Reinhart Shares Her Hardest 'Riverdale' Scene & It's Not Dark Betty — EXCLUSIVE
The CW
OK, I'll be honest: Riverdale is my guilty pleasure and I'm not afraid to admit it. Every Wednesday night, I tune in at 8 p.m. to find out what twists and turns the show will throw at me. Every Thursday morning, I scan through Twitter and Reddit for new Easter eggs and fan theories. It's a whole thing, you guys. I'm committed AF. Whether it's learning dark secrets about the Lodges or finding out new details about the Coopers' family history, I'm hooked. Specifically, I'm SO intrigued by Dark Betty. How is it that Lili Reinhart portrays a character so angelic and clean-cut during the daytime, but at night... she's something else? Did you actually know the Dark Betty scenes weren't even the hardest Riverdale scenes for Lili Reinhart to shoot? That's right, it was actually Betty's Serpent dance. The TV star gave Elite Daily the scoop, and TBH, it makes a lot of sense.
Transforming into Dark Betty, black wig and all, must have been a little bit intimidating for the actress, but there's another scene in the series that was the most difficult for the star to shoot. "I would say one of the hardest scenes to shoot was my Serpent dance in Episode 8, understandably I think," Reinhart explains. "It was very intimidating, and I was actually doing it in front of however many people were in that room, 100 or so crew members, and you know, there's a spotlight on me and it was intense and kind of scary, but once I did it a couple of times, it got easy."
If you recall, Betty strips down to black lingerie and dances on a pole as part of her South Side Serpent initiation. She even sings "Mad World" from Donnie Darko, so it's this whole thing. The entire scene was a little cringeworthy to watch, but that's because Betty is literally performing in front of EVERYONE — her mom, her boyfriend, her boyfriend's dad, a bunch of scary Serpent men. Tall Boy! Here, just watch the clip below to ~refresh your memory~:
Don't worry! I also have part two:
Awkward, right? But that's also the point. Betty is such a conservative and modest character that she CLEARLY felt uncomfortable during this performance. I mean, would you get up on a pole and do a sexy dance in front of 100 people just for the boy you love? I personally have a girlfriend, so prob not me. BUT WOULD YOU?!
At the end of the day, Reinhart was able to prevail and make the scene happen, even though it was a little scary at first. "It's all about being comfortable as yourself," she says. "And I'm pretty comfortable in my own skin, so it wasn't as bad as it could have gone. I was pretty comfortable and had support from the cast and crew, but it was definitely nerve-wracking."
On the topic of confidence, Reinhart also filled Elite Daily in on her latest project and it's so inspiring. The actress and her co-star Camila Mendes teamed up with JCPenney as part of its 2018 prom campaign. The two worked as creative directors and stylists to help a lucky group of teens get ready for prom.
Reinhart explains why it was special for her and Camila to be on the other side of the camera, since they're usually the ones in front of it. "Cami and I get styled and dressed and glammed up every day on our show, so it was fun for us to be on the other side of that and see them experience it for the first time, and just, you know, see these prom dresses and get excited for prom," she says. "The whole point of this campaign is to go to prom feeling like your best self and glammed up."
What an incredible message. Obviously, it sounds like Reinhart was the perfect person for this job.
Be sure to tune in every Wednesday night to watch Riverdale and check out JCPenney's gorgeous prom collection online!