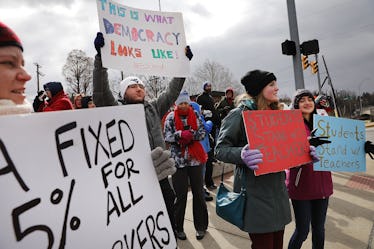 West Virginia Public Schools Have Been Closed For Over A Week For A Vital Reason
Spencer Platt/Getty Images News/Getty Images
While a cascade of other politically fraught issues are occupying Washington, a state-level battle is pressing on just west of the nation's capitol. West Virginia teachers are striking to demand better rights in what has become a massive demonstration of teachers statewide. Monday, March 5 marked the eighth day of the strike.
Among the teachers' demands is a 5 percent pay raise, which CNN reports must be passed as law in the state. Additionally, teachers are seeking improvements to their benefits package, namely health care.
The strike affected some 277,000 students in the state, according to CNN. On Feb. 22, 20,000 teachers from all 55 counties staged a walkout, along with some other school employees.
The striking teachers reportedly aren't happy about being out of their classrooms, but have felt forced to take a stand. Educators in the state are some of the lowest paid in the U.S., earning an average of $45,000 annually. To supplement their income, USA Today reports, many teachers have taken on side gigs, from working as restaurant servers to artists, in a state with nearly an 18 percent poverty rate. Changes to health insurance plans have also hit educators hard, with one telling The New York Times that she can't afford what amounts to a $300 bite out of her $1,300 bimonthly paycheck.
The issue of teachers' pay and rights extends to other states. Oklahoma finds itself in a similar situation, and educators there — who make around $42,000 a year — are reportedly considering going on strike as well, per Newsweek.
The state's classrooms remained shuttered on Monday as the teacher unions and state government continue to lock horns. The battle began after Governor Jim Justice announced a 2 percent pay increase on Feb. 21, which unions said wouldn't cover the increasing cost of living.
The House of Delegates later approved a 5 percent increase following negotiations between Justice and the unions, but the bill died in the state Senate. The latter instead put forth a 4 percent increase on Saturday, March 3, a number rejected by the House. With the two chambers unable to agree, the legislature was locked in a stalemate.
In response, a conference committee of two Republicans and one Democrat was formed, tasked with finding a solution to the issue by Tuesday, March 13. As of writing, there are no committee meetings scheduled.
Senator Kamala Harris (D-CA), among dozens of others, shared a message of solidarity with the educators on Twitter.
Students and their families, for their part, are left trying to find ways to fill the hours they'd normally be in school. Not all of the children are at home playing video games, however. Some students have rallied behind their teachers, sharing messages of support and joining them on the front lines with signs.
"I wish it wouldn't have come to this and that I was still in school, but I want the teachers to get the wages that they deserve, so I'm alright with it," said sophomore Victoria Blickenstaff, per CNN.
And the West Virginia educators are garnering support countrywide. A GoFundMe page is raising money to send pizzas to the striking teachers at the state capitol. The fund had raised over $11,000 as of writing. Per local news station WZAS, the fund's organizer, United Educators of San Francisco president Lita Blanc, says that the protestors need provisions to help maintain their protest. The initial goal of $10,000, she added, would feed 3,000 teachers for three days. The goal has been updated to $15,000, and the first shipment of pizzas is scheduled for Monday.
Teachers, too, wanted to ensure that hunger wasn't an issue for students. USA Today reports that educators and school board members packed bags full of food for low-income students who rely on free school meals to take home before going on strike.
What the strike means for politics on the larger scale remains to be seen. In January 2018, Gallup reported that West Virginia, which overwhelmingly voted for President Donald Trump, gave him the highest approval rating in the country, at 61 percent. It's unclear if the weeks of protest will have any impact on voters in regards to the upcoming midterm elections in November.