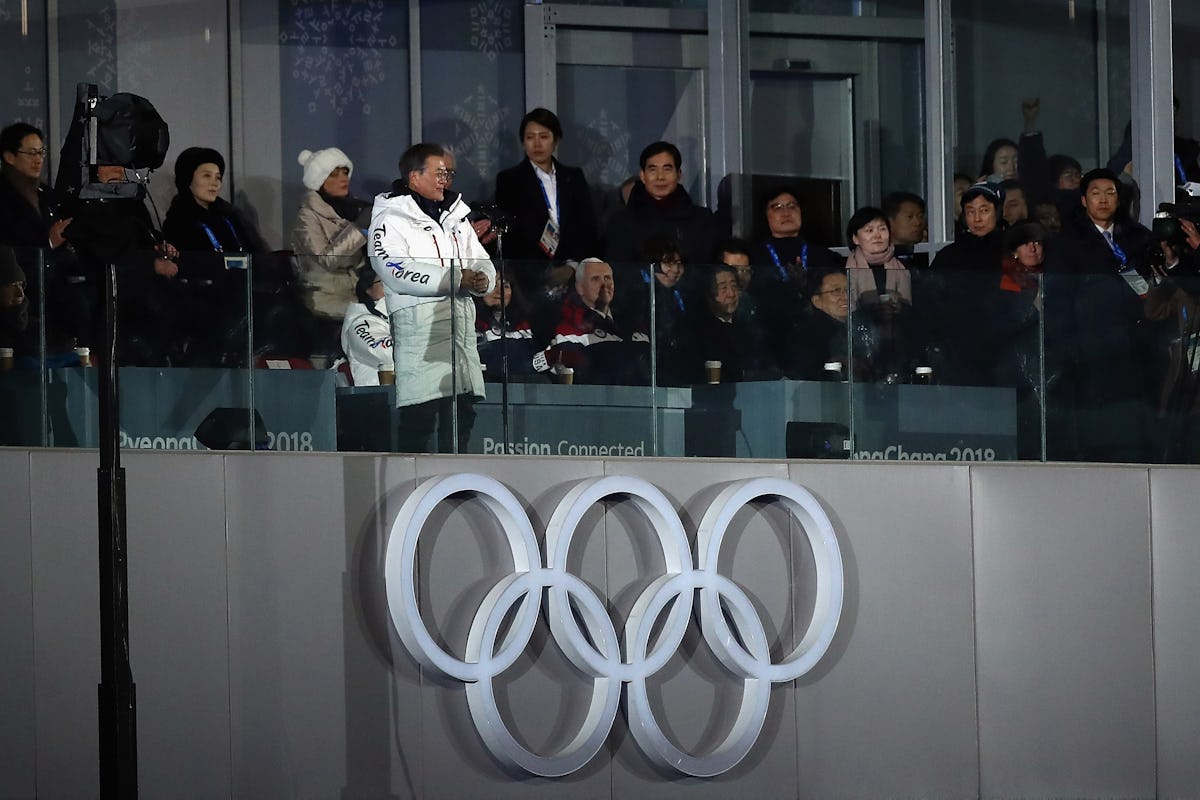 The Olympics Opening Ceremony Began With A 'This Is Us' Actor & Fans Are So Excited
Ronald Martinez/Getty Images Sport/Getty Images
The 2018 Winter Olympics opening ceremony kicked off with a powerful montage narrated by everyone's favorite golden-voiced actor — and if you couldn't tell from the first 5 seconds who is narrating the Olympics opening video? Well, it's none other than Sterling K. Brown of This Is Us.
The Feb. 9 broadcast officially began with a beautifully filmed package focusing on athletes' inspirational stories and facing against each other in Olympic competitions. Team USA Olympians highlighted in the piece included snowboarder Shaun White, figure skater Nathan Chen, and alpine skier Lindsey Vonn. Normally, viewers would brush off introductory montages as filler fluff and lose interest quickly, but NBC played its cards right and called upon one of its biggest network stars to catch the audience's interest.
News of Brown's involvement in the project leaked earlier this week, with Entertainment Weekly reporting that he would narrate the 7-minute opening film, Always Start with the Dreams. Brown follows in the footsteps of previous opening montage narrators such as Giancarlo Esposito during the 2016 Rio Games and Peter Dinklage at the start of the 2014 Sochi Games. If you look even further back, the narration honor also went to vocal titan James Earl Jones for both the 2000 and 2004 Summer Games. Something tells me that Brown is well on his way to earning as much acclaim as these stars before him.
It may have taken me a moment to realize that Brown's voice was in my living room and not making me cry, but Twitter was quick to notice and celebrate the fact.
Fans probably still recovering from this week's double dose of This Is Us episodes were excited for Brown to liven up a moment that wasn't too thrilling otherwise.
His deep bass tone even reminded some viewers of another acting legend with a captivating voice, Morgan Freeman. So, when do we get to see a movie where those two play father and son?
As for the opening montage itself, Deadline reports that it was filmed and produced over 18 months. Featuring South Korea's mountain landscapes, the film meant to emphasize athletes' dreams coming true at the games. Mark Levy, the co-producer of the film and a Senior Vice President at NBC Sports Group, said of the opening:
Our opening film has become our signature Olympic welcome for the American audience, and it is an honor to have a performer of the caliber of Sterling K. Brown to bring it to life. This year's film centers on the theme of Olympic dreams, and is highlighted by the very best imagery our production team has collected over the months leading up to these Games.
In another great coincidence, actor Andre Braugher (Brooklyn Nine-Nine) narrated the Olympic opening films of the 2006 Turin Olympics, the 2008 Beijing Games, and the 2010 Vancouver Olympics. In September 2017, Brown became the first African-American since Braugher in 1998 to win a Lead Actor in a Drama Emmy award. Brown even dedicated a portion of his acceptance speech to Braugher's award-winning character Frank Pembleton on the '90s series Homicide: Life on the Street.
At least one hardcore fan didn't let the two's new Olympic connection go unnoticed. I'm all for Brown continuing Braugher's tradition and filling this narrator role for future games.
The only thing missing from this excitement is a response from Brown himself. Given the busy week he had live-tweeting This Is Us, we'll give him a pass for now.
The 2018 Winter Olympics continue airing in primetime on NBC until the closing ceremony on Sunday, Feb. 25.
To learn more, visit teamusa.org. The Winter Olympics will air live starting Feb. 8.