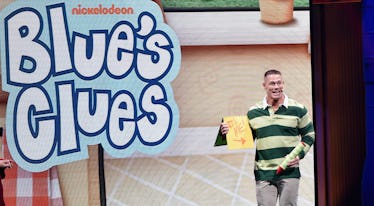 John Cena Could Host The New 'Blue's Clues' Reboot, So Say Goodbye To Steve
Bryan Bedder/Getty Images
From wrestling superstar to big-screen comedian to... children's show host? It is not the most conventional career trajectory, but that may be the case for John Cena, who is being connected to Nickelodeon's upcoming Blue's Clues revival series. That's right — John Cena might be hosting the new Blue's Clues reboot.
Although a new host has yet to be officially announced, fans already know what John Cena would look like in the show's iconic green-striped shirt since the wrestler reportedly auditioned for the part in front of a crowd at the Nickelodeon Upfronts last week. After the children's network announced that it would be reviving its problem-solving series with a "refreshed" look, Cena apparently came on stage dressed as the show's host to audition for the live-action role. News of Cena's appearance at the Blue's Clues presentation, along with a photo of Cena decked out in his Blue's Clues wardrobe, quickly began circling social media, and soon pretty much everyone was assuming that John Cena was definitely going to be the star of the rebooted children's franchise. Check out the photo that caused all of the commotion about John Cena potentially hosting the new Blue's Clues series below:
To further stoke the rumors, John Cena posted a photo of the original Blue's Clues host Steve Burns to his Instagram without comment a few days later:
Although he is best known for his pro wrestling career — not exactly the most kid-friendly profession out there — John Cena really would make a perfect choice for the new Blue's Clues host. Cena has made the jump into acting over the last few years, proving his surprisingly sharp comedy chops in big-budget films like Trainwreck, Sisters, and the upcoming Blockers. While those movies are too raunchy for young kids, Cena has also proven himself to be a star within the children's market. Last year, he helmed the Oscar-nominated children's movie Ferdinand, and he already has a strong relationship with Nickelodeon in particular after serving as the host for its annual Kids' Choice Awards for the last two years.
With all his comedy experience and his strong brand in the children's market, John Cena would make sense as a Blue's Clues host... but will he actually do it? Although Nickelodeon still has not officially announced a new host, it doesn't seem likely to me that Cena will actually be signing on for the job. The main reason for this is the fact that Nickelodeon has already set up an open casting call to find a new Blue's Clues host for April 14, which the network obviously would not need to do if it already had Cena on lock. It seems to me that John Cena's audition at the Nickelodeon Upfronts was just a fun, promotional stunt to get the audience excited for the rebooted series.
A report from TMZ is claiming that Nickelodeon is actually looking at casting a woman as the new Blue's Clues host, which would mark the first time the franchise has been helmed by a woman. There is also the chance that one of the show's original hosts could reprise his role. Steve Burns was the show's most iconic host, playing Steve from 1996 to 2002, but left the series, claiming that he was ready to get out of children's television. Steve was replaced by Joe, a new character played by Donovan Patton, who hosted the show until its finale in 2006.
Steve Burns recently shared that he is not a fan of the possibility of John Cena hosting the new Blue's Clues, stating that the appeal of the original series was that the host was just a regular dude. He even went so far as to challenge Cena to a wrestling match for the hosting job. Although Burns was ready to be done with Blue's Clues back in the early 2000s, it sounds like this reboot may have re-sparked his interest. Who knows — maybe Steve really will be back.