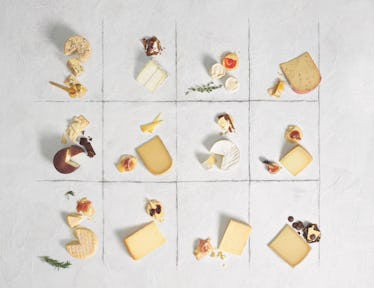 Whole Foods' 12 Days Of Cheese Is Back For The Tastiest Holiday Celebration Ever
Courtesy Of Whole Foods
Well everybody, it looks like the holiday season is finally here — at long last — and you know what that means: a plethora of tasty treats are about to fill my fridge to the brim. From bubbly cocktails and yule logs, to chocolate truffles and Christmas cookies, there's a lot of delicious treats that have my stomach grumbling in anticipation. However, I'm most excited to get in on Whole Foods' 12 Days Of Cheese 2018. If you ask me, it's the tastiest way to celebrate.
Whole Foods' mere existence is basically a gift from the heavens all on its own, but the organic supermarket is bringing eternal holiday joy to everyone this season with its annual 12 Days Of Cheese. If you didn't partake last year, Whole Foods' 12 Days Of Cheese highlights a different artisanal cheese everyday, starting on Dec. 12, and going all the way through Dec. 23, according to a press release. Customers will be able to purchase each selected cheese for 50 percent off that day, and if you're an Amazon Prime member, you can add a an additional 10 percent off the already-discounted price. I told you, it's a completely unreal deal, and if you ask me, it's absolutely perfect if you're planning on entertaining or hosting this year.
Starting on Dec. 12, according to the press release, this year's featured cheeses are set to include:
Klare Melk Truffle Gouda
Esquirrou Petit Ossau-Iraty
Kaltbach Cave Aged Le Gruyère
Vermont Creamery Bijou, Mons Camembert
Neals Yard Dairy Keen's Cheddar
Cypress Grove Humboldt Fog
Uplands Cheese Company Pleasant Ridge Reserve
Saxon Creamery Hika Bay
Rogue Creamery Organic Enraptured Blue
Mitica Drunken Goat
Cellars at Jasper Hill Kombucha Willoughby
I don't know what half of those varieties are, but they still sound straight-up delicious to me. TBH, I have my eye on that Truffle Gouda... yum.
In a press release, Whole Foods Market's Global Executive Coordinator of Specialty and Product Innovation & Development, Cathy Strange, said the Whole Foods team is super excited to share this year's selected cheese with customers.
In the press release, Strange said,
Our team is extremely excited to share the cheeses we've identified for this holiday season with our shoppers. We've curated a diverse and innovative selection, including several world champion cheeses and a few exclusive cheeses you can only get at your local Whole Foods Market. The 12 Days of Cheese is truly a celebration of our favorite cheeses and they will each be available at an incredible value for one day only!
If you're looking to pick up a bottle of wine to accompany your choice of cheese, check out Whole Foods' selection of holiday wines. From rosés, to bubblies, and Pinot Noirs, your bar cart will be complete with all the goods.
There's a lot to look forward to amidst the holiday season, but Whole Foods' 12 Days Of Cheese definitely takes the cake. If you're all about that dairy life, this is definitely the ideal celebration for you... honestly, I want to try them all.