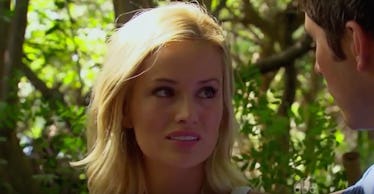 Here's Your Official Timeline Of 'Bachelorette' Emily Maynard's Love Life
ABC/YouTube
Arie Luyendyk Jr. is going to be our next Bachelor and, as you probably know by now, he has a history with the reality TV franchise. The 36-year-old former race car driver competed on Emily Maynard's season of The Bachelorette back in 2012, ending up in the unfortunate runner-up spot following a dramatic goodbye. So, who won Emily's season of The Bachelorette? The North Carolina native and Bachelor fan fave got engaged to Jef Holm, but their courtship didn't last long after the cameras stopped rolling.
On the eighth season of The Bachelorette, Emily was the leading lady in charge of handing out those sought-after roses. Arie solidified his place as the season's "kissing bandit," but sadly, she sent him packing in the finale despite their chemistry and connection. "My parents loved you. My family loved you. Everybody loved you ... I never thought that I would have to make a choice between you and anybody. I always thought it was just going to be me and you. Honestly. And then, you know..." she tearfully told him. "I'm sorry." Even though Emily went on to explain that she meant everything she said throughout their relationship, she just "had more confidence with Jef." Aww — don't fret, Arie. Wait five years and it will be your turn to potentially break up with someone in an exotic location.
Arie and Emily didn't make it past Curaçao, but that doesn't mean she and Jef had an enduring love story either. And Jef wasn't the only TV engagement Emily experienced.
Bachelor Beginnings
Emily's reality TV introduction began on entrepreneur Brad Womack's 2011 installment of The Bachelor, Season 15. At the time, the southern sweetheart and event planner was already mom to her daughter Ricki, whose father Ricky Hendrick was tragically killed in a plane crash prior to her birth. Emily and Brad hit it off and she went all the way to the finale, which ended in a romantic proposal complete with a $50,000 Neil Lane Diamond. The pair decided to call it quits a few months later. "The demise of our relationship was completely my fault," Womack revealed to PEOPLE in July of 2011. "I gave Em every reason under the sun to get out much sooner than she did. She hung in there with me much, much longer than she should have." Emily called the end of her engagement her "worst nightmare."
A Second Shot at Love
Maynard made quite the good impression on #BachelorNation, so it was only natural that she take on The Bachelorette role following her breakup with Brad. It was on the show's eighth season in 2012 where she narrowed her decision down to Arie and Utah-based Jef Holm. She and Jef broke off their engagement later that year. She told PEOPLE following the news,
As you know, at first I wasn't sure that I should even be The Bachelorette, but I am a hopeless romantic and I do believe in the show. I have no regrets because I did find love and shared an incredible journey with a really special person – and you know what, we tried our best because the love between us was so real.
Happily Ever After
Emily left the Bachelor universe behind with two broken engagements, but that didn't mean a fairytale ending wasn't on the horizon. Maynard met her now-hubby Tyler Johnson in church in Charlotte, North Carolina and the pair were married in 2014. The happy couple has three children together — Emily recently welcomed her youngest son, Gatlin Avery, in November of 2017.
Now the reality TV alum can call herself a mother of four, blogger, and author. But what does she have to say about Arie's upcoming Bachelor gig? She stated,
I have been wanting Arie to be The Bachelor since my season ended forever ago, and I know he's going to be great! He's so much fun to be around and comes from the nicest family, so the girls on his season really lucked out with him! Arie deserves nothing but the best, and I hope everything goes wonderfully for him!
Season 22 of The Bachelor premieres Jan. 1, 2018 on ABC.