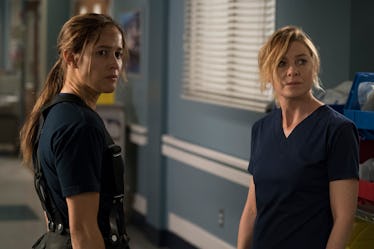 A New Character For 'Station 19' Will Be Announced During 'Grey's Anatomy,' So Tune In
We're getting closer to the official end of Scandal, but the kingdom of Shondaland will remain strong when her TGIT lineup on ABC introduces the new Grey's Anatomy spinoff Station 19. Set to premiere on March 22, Station 19 brings together Grey's Anatomy's Ben Warren and an entirely new group of firefighter characters, which makes us ask: Who will star in Station 19? Bare bone details of the show's firefighter squad have been released, but fans will have their first introduction to its leading lady when the March 1 Grey's Anatomy episode introduces the new character. We're going to need plenty of wine for this!
Entertainment Weekly reports that Station 19 main character Andy Herrera, played by Jaina Lee Ortiz, will first appear on the upcoming Grey's Anatomy episode. March 1 is already a huge night for TGIT shows, as the Scandal and How to Get Away with Murder crossover episodes are also due to air then. While details on the much-anticipated crossover have been kept fiercely private, we have a bit more insight into the role Andy will play on Grey's Anatomy. As reported by EW, the episode logline reads:
Seattle Firefighters Ben Warren and Andy Herrera head to Grey Sloan after rescuing two boys that are injured in a house fire. With one of the boys' lives literally in Andy's hands, her skills are put to the test. Meanwhile, the doctors are hard at work on their projects for the Grey Sloan Surgical Innovation Contest and Amelia brings Tom Koracick in to consult on her and Alex's patient.
The episode's promo reveals that the damages to the injured boy are so severe that Andy has to keep the pressure of her finger on his wounds. She even has to come into surgery with the doctors, and this different kind of life-or-death situation appears to frazzle her.
The Grey's Anatomy plot ought to give us major insight into Andy's relationship with Ben. The former surgeon is adjusting to his new career as a firefighter, while Andy comes from a family used to the job's demands. I'd bet we can expect a sweet friendship resembling that of siblings to develop between the two.
As seen in the official Station 19 trailer, Andy is a character with "guts," so she seems like a heroine who will match the fierceness of other Shondaland leads without issue. When her fire captain father is seriously injured, she chooses to replace him and lead the staff at Station 19.
The trailer also reveals that a crucial moment drives Andy to a powerful pep talk from Meredith Grey, who lets her cry in a hospital closet before telling her, "That's enough, now get your game face on." The circumstances seen around this encounter hint that Andy's emotion is about her dad's injury, so the moment is likely from Station 19's pilot episode.
Regardless, I'd turn to Meredith for a pep talk on how to get out of bed in the morning, let alone when I have a personal crisis.
Ortiz previously had a role in the fairly short-lived series Rosewood, which ended in 2017 after two seasons on FOX. Playing Detective Annalise Villa on the police procedural, Ortiz valued the big break role because of its opportunity to represent Latinas on TV. Speaking to the magazine Latina in 2016, she said:
I'm very inspired by it because growing up I never saw Latinas on TV. I've always seen them in movies. So, to actually be a Latina playing Latina, it feels very good because I'm pretty sure the next Latina growing up or just any girl that can relate to Villa. They can feel inspired and motivated by her because she represents every culture I feel like, it's not about race per say, it's more about the human condition and the human experience. There's a lot of pride in being a Latina on TV.
Ortiz is sure to be a strong addition to the group of TGIT matriarchs. I'm so ready for the inevitable photoshoots of her with Viola Davis, Kerry Washington, and Ellen Pompeo.
The Grey's Anatomy episode starring Ortiz airs on Thursday, March 1 at 8 p.m. ET on ABC. Station 19 premieres on Thursday, March 22 in a special two-hour episode beginning at 9 p.m. ET.