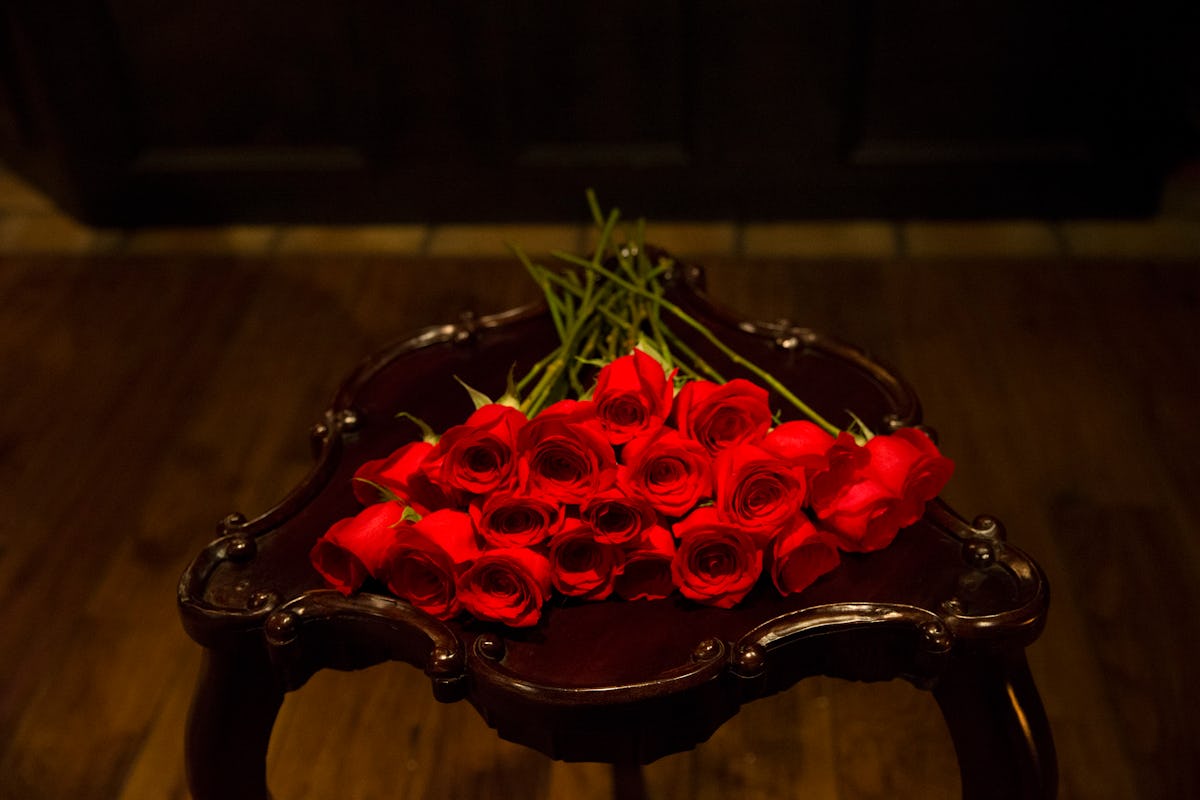 A 'Bachelor' Contestant Walked Out On Arie After He Sent Her Home & It's So Dramatic
ABC/Paul Hebert
A wise person (must have been an Instagram influencer) once noted, "Don't cry because it's over, smile because it happened." Well, we hope that quote rings true for the contestants on The Bachelor and that the ladies who don't make it to the very end can keep smilin,' no matter how short-lived their journey was. It's only the second week and Arie has narrowed down the 29 women vying for his heart to 18. Who went home on The Bachelor week 2? Arie said goodbye to three women.
After a week full of fights, some inevitable car references (will those ever end?), and two one-on-one dates, we knew it was time. The moment to rip off the bandaid and eliminate the contestants Arie didn't see a future with had arrived once again. "You know, I had some really good conversations. I've gotten a lot of clarity," Arie told Chris during their heart-to-heart before the ceremony. "Some of them have exceeded my expectations and some of them slipped back a bit."
So, who slipped from Arie's perspective? This time, Bachelor Nation bids adieu to the following: Valerie, Lauren G., and Jenny.
Valerie is a server from Nashville, Tennessee. She didn't exactly make a major impression on the show so far and she left the mansion with a hug and a thank you.
Ah, another Lauren exits. We're now down to two out of the original four, so keeping track of them is getting a bit easier. Lauren G. is an Executive Recruiter from Indianapolis, Indiana. One thing we do know about her from the premiere: Pineapple is her safe word.
When it came time for Jenny to leave, the graphic designer from Illinois didn't take it as well as the others. She proceeded to walk directly past Arie with an icy cold shoulder, without offering up the ritualistic goodbye hug. Of course, Arie followed her to get some closure. "Hey, I'm sorry. Come here," he pleaded. "Give me a hug at least." He went on to explain, "I just have to make tough choices and I just didn't see it, at the end of the day… It's hard to open up … I tried to bring it out of you today..." Jenny went on to tell him that she had made a lot of friends and that's why she was sad. Hmm.
"I got broken up with for the first time. I'm so shocked. I literally came into this thinking that I would end up with him but he literally picked a taxidermist over me. I just feel like I embarrassed myself," she said in her final moments. Hey, no need to bring Kendall's quirky hobby into this.
It was a dramatic conclusion to a dramatic episode, if we do say so ourselves.
Not only was there an action-packed group date this week, Arie went on two one-on-one dates throughout the evening and both of them were successful and ended in confident rose-giving. Minnesotan Becca got a glam Rachel Zoe shopping spree and some shmancy perks and Krystal left the state altogether and went with Arie to his hometown in Arizona.
In addition to seriously hitting it off with his two one-on-ones, Arie gave a group rose to Seinne after getting to know her more. He also spent extra time with Bekah — the pair had a steamy makeout sesh and later snuck off to talk further. "I lead with chemistry and with Bekah, there's a lot of that…" Arie admitted "She's bold and charismatic and when we kiss it was just apparent that she could be the whole package." The Kissing Bandit strikes again!
Things are certainly heating up, and it appears that next week the women will be wrestling on a group date. Yikes. Expect more kissing, more fighting, and more OMG moments to come.