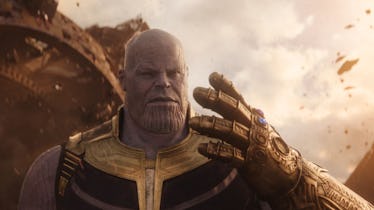 4 Things Marvel Fans Should Know About The Actor Behind Thanos In 'Avengers'
Marvel
Avengers: Infinity War finally brings our band of heroes on Earth face to face with a Big Bad that's been swirling in the background for over five years: Thanos. We first met Thanos in the mid-credits sequence in 2012's The Avengers. He was established as a major heavy in Guardians of the Galaxy, as well as Gamora and Nebula's adopted father they are trying to escape. Now he's coming to New York City to start blowing things sky high. Who plays Thanos in Avengers: Infinity War? That's a good question since it's hard to tell under the CGI who is in the motion capture suit.
The answer is actor Josh Brolin, a lifelong actor, and best known for such movies as No Country for Old Men and Milk, as well as playing the title role of George W. Bush in W.
Thanos has been long teased as the ultimate antagonist in the Marvel universe throughout all three phases, and it would take someone with that sort of pedigree to bring a man some people have compared to a cross between a California Raisin and Homer Simpson to life and actually make him scary. But unlike the superheroes he faces, fans don't know that much about Josh Brolin. Let's run down the facts.