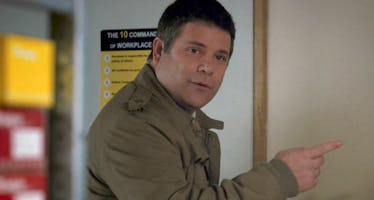 This 'Stranger Things' Character Looks So Familiar Because You've Seen Him Before
Netflix
There are a couple of new faces in Hawkins this season of Stranger Things, and one of those faces probably looks really familiar to viewers. Like seriously, if you've seen any big high fantasy trilogies, football movies, or classic '80s kids flicks, then Joyce Byers' new boyfriend Bob Newby is probably giving you a total "where do I know him from" moment. That is, if you didn't just recognize him right away. Sean Astin plays Bob on Stranger Things Season 2, and it's a much different character than fans of his iconic film roles before now have come to know.
Of course, Sean Astin started his career in the quintessential '80s kid-centric adventure flick The Goonies, which was actually one of the many movies from the era to inspire Stranger Things. He also helmed the cult classic football movie Rudy before taking on the biggest role of his career as the affable hobbit sidekick Samwise Gamgee in the Lord of the Rings trilogy. Looking back on Astin's career, it's actually pretty incredible how all of his major parts seemed to perfectly lead him to Stranger Things. Like The Goonies, the hit Netflix series is also about a group of kids in the '80s who set off on a dangerous adventure, and the world of high fantasy represented by Lord of the Rings also plays a large part in the kids' lives as well as informing the monsters they come up against. Oh, and it's set in Indiana like Rudy was. OK, yeah that's the weakest one I guess — I'm trying here.
One of the really interesting aspects about Sean Astin's appearance in Season 2 is that Stranger Things has already mentioned Lord of the Rings a few times in its first season. When Will Byers was taken by the Demogorgon, they tell the police that the abduction must have happened in Mirkwood, a name from LOTR that the boys gave to a shady area in town. So does Samwise Gamgee's appearance in Hawkins present a potentially universe-busting bit of casting? Actually no, since Astin didn't take on the part of Sam until the first Lord of the Rings film adaptation in 2001. Since Season 1 of Stranger Things is set in 1983, the boys were fans of J. R. R. Tolkien's novels, not the movie series that came later.
But Sean Astin's Stranger Things character of Bob Newby seems decidedly less heroic than his past parts. We first meet the electronic salesman in the Season 2 premiere, when he makes out with Will's mom Joyce Byers in the utility closet of her convenience store. Despite this bit of fiery passion, Bob comes off more as a goofy dad than anything else, making some pretty painful dad jokes and embarrassing Will and Jonathan with how uncool he is in later episodes.
Astin popping up in the new season as Joyce's new boyfriend is also a disappointment to many fans of the show, who assumed Joyce would be getting together with police chief Jim Hopper after the chemistry between the two of them sparked brighter than a string of Christmas lights in Season 1. But rest assured, just because Joyce is with Bob, that sexual tension between her and Hopper is just as present in Season 2. I still haven't finished the new season, so I am still wondering whether Joyce and Bob will make it or she will finally act on her obvious attraction to Hopper... we'll see I guess!
But for right now at least, Sean Astin is probably the perfect mix of '80s nostalgia and high fantasy stunt casting for this show, and his character of Bob is so delightfully goofy that you kind of can't help but love him.