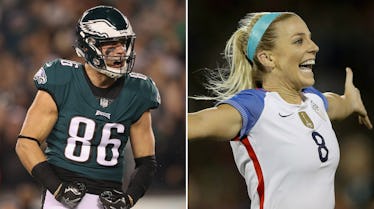 This Eagles Player & His Soccer Star Wife Are Each Other's Biggest Fans & It's So Cute
Getty Images
There were lots of videos that went viral after the Philadelphia Eagles' surreal 38-7 win over the Minnesota Vikings in the NFC championship on Sunday. Like the one where you could hear the Eagles' fight song all the way from inside some guy's home six miles away from the stadium. Or the one with the excited fan who slammed into a pole while celebrating the big win in the train station (don't worry, he's OK). But my favorite video has got to be the one of Julie Ertz bursting into tears upon hearing the news that her husband is now headed to the Super Bowl, because her reaction is just amazing. So who is Zach Ertz's wife, anyway?
The gorgeous, 25-year-old Julie Ertz is actually a legit athlete in her own right. She's an amazing professional soccer player and FIFA Women's World Cup champion, and is currently a midfielder for the U.S. women's national soccer team.
The Arizona native played soccer at Santa Clara University from 2010 to 2013, then was selected third overall by the Chicago Red Stars in the 2014 NWSL College Draft. She is currently in her third season with the Red Stars, and was awarded U.S. Soccer Female Player of the Year in 2017.
Pretty badass, right? In fact, it was after she had just, you know, scored the winning goal in the U.S. women's national soccer team's win over Denmark on Sunday that the star athlete first heard the news that her Eagles tight end husband and his fellow bird gang members were officially Super Bowl-bound.
"Are they really going?" she asked, bursting into tears and jumping up and down as she hugged her teammates. "Oh my god. They're going! They're going!"
Amaaaaazing. I could watch that video about a billion times. Her response is just so pure and filled with pride, in a moment that could have been hers and hers alone.
"I was kind of looking around for someone to give me confirmation and answers, and I feel like I needed it from at least like three people to make it feel real," Julie later told ESPN. "Yeah, I just got super emotional."
And get this: Zach Ertz caught feels, too, when someone later approached him in the Eagles locker room and showed him the footage of Julie crying happy tears after securing her own victory and then hearing about his.
"Oh, man. That's emotional for me," he told a reporter, swiping tears away from his eyes. "I wish she was here, obviously. It's tough not having her here, but I can't wait for her to get home and celebrate with her."
Say what you will about Tom Brady and Gisele Bündchen, but no couple has ever been more sweet and supportive and happy for each other than this. Find yourself someone who tears up after winning their game, while watching a video of you tearing up over them after winning your game. Go ahead, I dare you.
Seriously, could these two be any more adorable?
The power couple actually met in college while attending a Stanford Cardinal baseball game, then got engaged in 2016 at the same baseball stadium where they met, because of course they did!
They got married in March 2017 after four years together, and in order to mark the occasion, they posed for ESPN's Body Issue just one week before the big day.
I mean, is it just me — or does it look like someone chiseled the Ertzs out of marble? Look at those muscles! But I guess such is life for two superstar athletes who both scored big wins on the same day, despite the fact that their games had similar start times, and so neither one could be there in person to cheer the other on.
Luckily, it looks like Julie's soccer sched will allow her to be present and accounted for when the Philadelphia Eagles take on the New England Patriots at Super Bowl LII on Feb. 4 — at least if Zach Ertz has anything to say about it.
TBH, I totally don't believe him. But it doesn't really matter, because while Julie may be dressed in red, it looks like she is more than ready to bleed green:
Go Eagles!