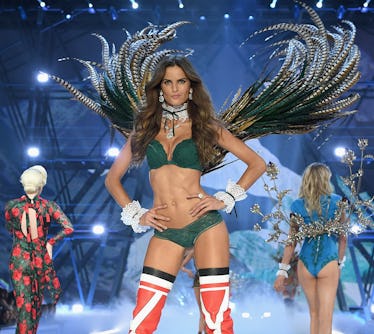 Here's The Official List Of Who's Walking In The 2017 Victoria's Secret Fashion Show
Dimitrios Kambouris/Getty Images Entertainment/Getty Images
The countdown is on for the 2017 Victoria's Secret Fashion Show. The catwalk of all catwalks will be broadcasted to our living rooms Nov. 28. The actual show is taking place in Shanghai, China, on Nov. 20 so there will be tons of social media buzz before the air date. You'll want to sharpen your Instagram game to ensure you don't miss a minute of the action. The VS models have truly become huge celebrities living insanely cool lives, so they're worth a follow. Who is walking in the 2017 Victoria's Secret Fashion Show? The star-studded runway is one you won't want to miss.
I think one of the biggest surprises to fans was that Gigi Hadid dropped out of the show very last minute. The model posted on her personal Twitter account Nov. 16,
I'm so bummed I won't be able to make it to China this year. Love my VS family, and will be with all my girls in spirit!! Can't wait to tune in with everyone to see the beautiful show I know it will be, and already can't wait for next year! :) x
This news coming straight from Hadid herself made fans upset. She did say, "can't wait for next year," which insinuates she still has a good relationship with VS and will be in the show next year.
Although one Hadid sister will be absent, there's still a plethora of other famous faces you'll see in the show. Below are the familiar faces and newcomers that you can expect to see in the 2017 VS Fashion Show.
The Angels
Of course, it couldn't be the Victoria's Secret Fashion Show without the angels — they are the backbone of the VS brand. According to Victoria's Secret, the 14 angels are: Adriana Lima, Alessandra Ambrosio, Candice Swanepoel, Behati Prinsloo (may not be walking due to pregnancy), Lily Aldridge, Elsa Hosk, Josephine Skriver, Sara Sampaio, Martha Hunt, Stella Maxwell, Lais Ribeiro, Jasmine Tookes, Romee Strijd, and Taylor Hill.
We know them, we love them, and many of them have been rumored to be dating Harry Styles. It truly wouldn't be the VS Fashion Show without these 14 gorgeous ladies.
Bella Hadid
Although her sister, Gigi, won't be joining the VS crew in Shanghai, we will still have Bella. After making her debut in the 2016 show, she's back for another year. The model divulged the big news via Instagram on Aug. 26. She said,
@victoriassecret I am so excited!..!!!!Thank you @monica.mitro@10magazine@johndavidpfeiffer and of course the wonderful, incredible @ed_razek + everyone on the team for making this dream come true again.. I feel so crazy humbled to get the opportunity to be a part of this show again...Walking into the offices this year i felt so happy, healthy, and honored.. I can't wait for another incredible experience!!! Congrats to all of the beautiful ladies I will be walking beside. I can't wait! Xx
See you Shanghai, Bella. You're repping the whole Hadid clan now.
Karlie Kloss
This was an exciting reveal. Karlie Kloss has graced the VS runway before, but has been absent from the show since 2015. I'm sure her return will be triumphant AF.
Herieth Paul
Herieth Paul will be taking her talents to Shanghai to walk in her second VS Show. When she revealed that she would be walking again in the show on Instagram, Paul said,
I will give my best on the runway and make sure to represent all the girls out there with dreams bigger than themselves. May this announcement bring hope and determination to anyone who reads it.
There's no doubt that she will blow us away on the runway.
Liu Wen
Liu Wen is a favorite on the VS runway. She's been walking since 2009, and was actually the first Chinese model to ever be in the show, according to Glamour.
Maggie Laine
Round two for Maggie Laine, leggoooo.
Leila Nda
Leila Nda walked in the 2015 VS Show, and is back again in 2017.
Daniela Braga
Daniela Braga is extremely inspirational. When she announced on Instagram that she would be walking for the fourth time on the VS catwalk, she revealed the struggles that she faced in her life. Bullying, depression, and lack of support couldn't keep her away from her dreams.
Jourdana Elizabeth
Jourdana Elizabeth is bringing her energy back to the runway for another year.
Cindy Bruna
This will be Cindy Bruna's fifth time walking down the VS catwalk. As you can see, she brings a ton of sparkle.
Kate Grigorieva
Kate Grigorieva first made her debut in the VS Show in 2014 so she is no stranger to the excitement.
There have been rumors circulating that Grigorieva is among a group of Russian models that were denied Chinese visas. This would mean she would not be able to attend the event. She posted on Instagram Aug. 23 confirming she would be in the show, but has not commented on the Chinese visa rumors.
Sui He
Making her debut in 2010, Sui He is back for another year on the VS runway.
Maria Borges
Maria Borges is a familiar face on the VS runway — she's been walking in the show since 2013. Borges made headlines in 2015 for wearing her hair natural on the runway. She described that moment to Elle by saying it, "was one the sexiest moments of my career so far."
Barbara Fialho
Barbara Fialho has been walking in the VS Fashion Show since 2012 — it's great to have her back for another year.
Sanne Vloet
VS is welcoming Sanne Vloet for her third year on the runway.
Kelly Gale
Don't miss Kelly Gale for her fourth VS Fashion Show.
Irina Sharipova
Irina Sharipova is slotted to make her second VS runway appearance. There are rumors that she is one of the Russian models who will not be able to attend because of problems with her Chinese visa. The model has not confirmed if these reports are true.
Alanna Arrington
Alanna Arrington is welcomed back for her second year at the VS Fashion Show. Keep an eye out for her signature curls.
Devon Windsor
Devon Windsor is a total VS Fashion Show pro who has walked five years in a row.
Lameka Fox
Keep an eye out for Lameka Fox during her second VS Fashion Show.
Georgia Fowler
Georgia Fowler will return the the VS runway for a second time. She's rumored to be dating Nick Jonas, so keep an extra sharp eye out for him in the crowd.
Blanca Padilla
Blanca Padilla has been training like an angel lately because she will again hit the VS runway in Shanghai.
Leomie Anderson
Leomie Anderson has the most contagious smile of any VS model, in my opinion. She has been welcomed back to the runway for her third show.
Xiao Wen Ju
Xiao Wen Ju is gracing the runway for her second year.
Zuri Tibby
Zuri Tibby will be bringing her flare back again to the VS catwalk.
Megan Williams
Megan Williams will be strutting her stuff for a second year in Shanghai.
Dilone
This is Dilone's second year on the VS runway. I highly recommend you give her a follow on Instagram, she is seriously so, so funny.
Grace Elizabeth
Grace Elizabeth announced on Instagram on Aug. 24 that she will be walking for the second time on the VS runway.
Estelle Chen
This will be Estelle Chen's first time on the VS runway. According to W Magazine, Chen auditioned for the show in 2016 when it was in her hometown of Paris. The rejection pushed her harder and better prepared her for 2017 when she landed a spot on the famous catwalk.
Grace Bol
Grace Bol will be bringing her edgy style to the VS runway for the first time in Shanghai. I can't wait to see what look Bol will rock during the show.
Bruna Lirio
Bruna Lirio is another newcomer you can expect to see during the 2017 show.
Gizele Oliveira
Bruna Lirio's BFF Gizele Oliveira also snagged a spot on the VS runway for the first time ever. Now, that's a power couple.
Alecia Morais
Alecia Morais has been welcomed for her first VS Fashion Show — it's sure to be an unforgettable night.
Alexina Graham
There will be some redhead representation on the VS runway this year thanks to newcomer Alexina Graham.
Dasha Khlystun
Dasha Khlystun is a Ukrainian model who is also under speculation that her Chinese visa was not approved. The model has not commented on if these reports are true or false. According to her Instagram, on Aug. 26 she was at a fitting for the VS Show — this is her debut year on the runway.
Vanessa Moody
Welcome newcomer Vanessa Moody to the VS fam.
Aiden Curtis
This will be Aiden Curtis' first walk down the VS runway.
Amilna Estevao
Amilna Estevao will be hitting the runway for her first year.
Julia Belyakova
Julia Belyakova is a newcomer to the VS Fashion Show. She is another Russian model who has rumors floating around that she was not able to get her Chinese visa approved. However, on Nov. 16, Belyakova posted to Instagram saying, "#Shanghai #beijing we are coming for ya," alluding to the fact that she will indeed still be in the show.
Mayowa Nicholas
Mayowa Nicholas will take her first strut down the VS runway in Shanghai.
Nadine Leopold
Nadine Leopold is a newcomer to the VS family.
Victoria Lee
Even though it's her first year in the show, Victoria Lee has the perfect name for the gig.
Frida Aasen
This will be Frida Aasen's first year on the VS runway.
Roosmarijn De Kok
According to the Roosmarijn De Kok's Instagram, she's worked for VS the past three years, but this will be her debut on the famous catwalk.
Samile Barmannelli
This will be Samile Barmannelli's first year in the VS Fashion Show. I love how in the video above she almost cries, but doesn't want to ruin her makeup. Relatable AF.
Well, there's your 2017 Victoria's Secret Fashion Show lineup. Keep an eye out for all the beauties above during the event on Nov. 28 airing on CBS.
Check out the entire Gen Why series and other videos on Facebook and the Bustle app across Apple TV, Roku, and Amazon Fire TV.