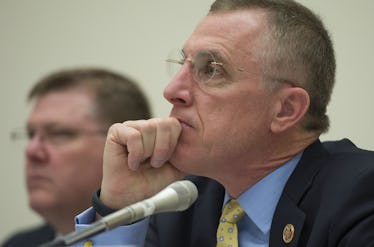 Anti-Abortion Congressman Who Reportedly Asked Woman To Get An Abortion Is Retiring
JIM WATSON/AFP/Getty Images
On Tuesday, Oct. 3, an unflattering report about GOP Rep. Tim Murphy became national headline news. Just a day later, on Wednesday, the same representative confirmed that he would not be seeking re-election in the House. Tim Murphy, an anti-abortion congressman from Pennsylvania who reportedly urged a woman with whom he was having an affair to get an abortion, said in a statement,
After discussions with my family and staff, I have come to the decision that I will not seek reelection to Congress at the end of my current term.
Later in the statement, Murphy added,
In the coming weeks I will take personal time to seek help as my family and I continue to work through our personal difficulties and seek healing. I ask you to respect our privacy during this time.
The statement was given to CBS' Pittsburgh affiliate, KDKA-TV. The story that seemingly led to the statement of resignation, meanwhile, was reported by another outlet in Western Pennsylvania, the Pittsburgh Post-Gazette.
According to the Post-Gazette, Murphy (R-PA) had been the recipient of a certain text message from a woman (with whom he admitted last month he had an extra-marital relationship).
It all started after Murphy's Facebook account posted an anti-abortion message in January that read,
The United States is one of just seven countries worldwide that permits elective abortion more than halfway through pregnancy (beyond 20 weeks). It is a tragic shame that America is leading the world in discarding and disregarding the most vulnerable.
After seeing the post, the woman sent a message to Rep. Murphy, saying,
And you have zero issue posting your pro-life stance all over the place when you had no issue asking me to abort our unborn child just last week when we thought that was one of the options.
According to the Post-Gazette, a reply from Murphy's phone would later read,
I get what you say about my March for life messages. I've never written them. Staff does them. I read them and winced. I told staff don't write any more. I will.
The woman would turn out to not be pregnant.
The news of Murphy's contradictory stances on abortion comes just as Congress is looking to pass the Pain-Capable Unborn Child Protection Act, which would essentially ban abortions that occur after 20 weeks of pregnancy. The bill is co-sponsored by Murphy and was approved by the House on Tuesday. It's chances of passing through the Senate, however, are doubtful.
While Murphy is known for his pro-life stance, he's also known for expertise in mental health legislation. In fact, It was while working on passing mental health reform — following the mass shooting at Sandy Hook Elementary School — that he met the woman with whom he would have an extra-marital affair with, a forensic psychologist in Pittsburgh named Shannon Edwards.
Rep. Murphy reportedly wrote in an email to Edwards,
I was not looking for a relationship with anyone. But we formed a true bond. It grew deep and fast. It became love. It became in love.
After news of Rep. Murphy's text messages with Edwards broke, the congressman was admonished by the Family Research Council, an anti-abortion group that had rated Murphy highly. A statement from the group read, per CNN,
Congressman Murphy's behavior is disappointing and disturbing. His statements and actions are at odds with his own voting record. Inappropriate personal behavior has public ramifications -- and in this case, clearly opens him up to charges of hypocrisy. For his own sake and those around him, our counsel would be for him to bring his behavior in line with his past voting record, not change his policy stance to reflect his wrong behavior.
Murphy's current term is set to end after the 2018 mid-term elections.