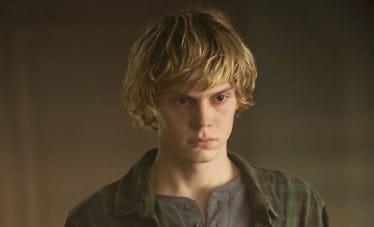 Refresh Your Memory On All Things Tate Langdon Before Watching 'AHS: Apocalypse'
FX
American Horror Story: Apocalypse is nearly here at long last, but before the end of the world, fans should prepare by brushing up on all of the AHS favorites that will be making their big comebacks in the new season. As you probably already know, this season will be a crossover between past seasons Murder House and Coven, with nearly every member of the main casts from those seasons returning. That includes Murder House standout Tate Langdon. Before you jump into Apocalypse, you may need a reminder on who is Tate Langdon on AHS, and how he might fit into the new season.
It is clear that the characters and events of AHS: Murder House will have a profound impact on what happens in Apocalypse. A little over a month ago, showrunner Ryan Murphy announced that the new season would star a grown-up version of Michael Langdon, played by Cody Fern. If you don't remember, Michael Langdon was the demonic baby prophesied to be the antichrist who was born at the very end of Murder House. Murphy later revealed that Evan Peters would be reprising his Murder House role of Tate Langdon, Michael's ghostly father by way of raping Vivien Harmon.
With the confirmation that Tate will appear in Apocalypse, a lot of fans are guessing that his return will have something to do with his antichrist son Michael. Maybe some fatherly advice on how to kill and torture people?
Ryan Murphy also revealed that Tate Langdon's love interest Violet Harmon will be returning along with him... oh, and Violet's parents Ben and Vivien Harmon will be back as well. Since all of these people died within the Murder House, their spirits will be unable to leave the premises in the new season, which confirms that the Murder House location will also be back. There's also a pretty convincing theory that the underground outpost that the apocalypse survivors take shelter in could be underneath the Murder House, which might allow Tate and the Harmons' ghosts to pop up in there as well.
There are two more Murder House characters that are confirmed to return for Apocalypse as well. Jessica Lange will reprise her role as Tate's stern mother (and Michael's grandmother) Constance Langdon, and Sarah Paulson will once again play the medium Billie Dean Howard. That will be only one of Paulson's three roles in the new season: She will also reprise her Coven role as the Supreme Cordelia Goode, and play the new character of Wilhemina Venable, the authoritarian headmistress of the post-apocalyptic outpost.
It is less clear how the returning Coven witches will play into the new season, but we do know that almost all of them will be back: Sarah Paulson as Cordelia Goode, Emma Roberts as Madison Montgomery, Taissa Farmiga as Zoe Benson, Lily Rabe as Misty Day, Frances Conroy as Myrtle Snow, Gabourey Sidibe as Queenie, and Stevie Nicks as herself. The Apocalypse trailer seemed to show Michael Langdon showing off his powers to some sort of board, which may be a version of the Witches' Council that we saw in Coven.
We will see how all of these things connect when American Horror Story: Apocalypse premieres on FX on Wednesday, Sept. 12 at 10 p.m. ET.