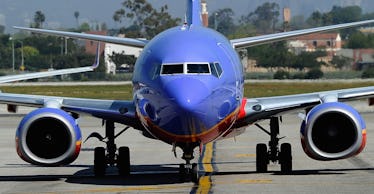 Who is Tammie Jo Shults? The Southwest Pilot Kept Her Cool In Crisis & Saved Lives
Kevork Djansezian/Getty Images News/Getty Images
It was every pilot's worst nightmare. After an engine blew out on Dallas-bound Flight 1380 on Tuesday, April 17, ripping a hole in a side of the plane, she began calmly coordinating an emergency landing in Philadelphia. The day after the incident, people are beginning to wonder: Who is Tammie Jo Shults? Here is how the Southwest pilot kept her cool in crisis and saved lives.
"Yeah we have part of the aircraft missing, so we're gonna need to slow down a bit," Shults is heard cooly saying to Air Traffic Control in audio clips of the exchange, according to London's The Independent
Parts from the failing engine smashed a window, killing a passenger and injuring seven others, authorities said, according to the Associated Press. The oxygen masks reportedly dropped from the ceiling as passengers panicked and attempted to resuscitate the victim, who was later identified as 43-year-old Jennifer Riordan — a senior Wells Fargo employee from Albuquerque, New Mexico.
Southwest Airlines said in a statement that the aircraft, a Boeing 737, took off from LaGuardia Airport in Queens, and had 144 customers and five crew members onboard. "We extend our heartfelt appreciation to the Southwest Pilots and Flight Attendants who acted professionally and swiftly to take care of our customers during the emergency diversion and landing," the airline said in a statement.
In light of the incident, Southwest Airlines released a statement saying that it would expedite engine checks on similar aircrafts. "The accelerated inspections are being performed out of an abundance of caution and are expected to be completed over the next 30 days," the statement reads. "The accelerated checks are ultrasonic inspections of fan blades of the CFM56 engines." Other airlines have also moved to inspect engines for similar reasons.
The Associated Press reported that Shults was among the first female fighter pilots in the U.S. military. According to a 1993 story published in All Hands Magazine, a U.S. Navy publication, Shults was a member of the Tactical Electronic Warfare Squadron. The story says that she had flown both A-7 and F/A-18 fighter jets. She is quoted as saying, "In [Aviation Officer Candidate School], if you're a woman — or different in any way — you're a high profile; you're under more scrutiny."
She said that chances for women to gain knowledge in the aviation community were limited, and has also spoken about her experiences at her alma mater, MidAmerica Nazarene University, from which she graduated in 1983, per The Washington Post.
"It would be nice if they would take away the ceilings [women] have over our heads," she said, according to All Hands Magazine. "In VAQ-34, gender doesn't matter, there's no advantage or disadvantage. Which proves my point — if there's a good mix of gender, it ceases to be an issue."
Shults' determination in becoming a pilot started with her upbringing, she is reported as discussing in Military Fly Moms, by Linda Maloney. She grew up on a New Mexico ranch near Holloman Air Force Base, per the Post. "Some people grow up around aviation," Shults said. "I grew up under it."
She served in the Navy for 10 years, per the Post, and eventually became a Navy lieutenant commander. She left the Navy in 1993, became a pilot for Southwest Airlines, and now lives in the San Antonio area with her husband and two children, the Post reported.
After the emergency landing, passengers were grateful to Shults.
Passenger Alfred Tumlinson told the wire service that Shults had "nerves of steel" in the middle of the crisis.
"That lady, I applaud her," Tumlinson said. "I'm going to send her a Christmas card — I'm going to tell you that — with a gift certificate for getting me on the ground. She was awesome."
"I heard a loud boom and about five seconds later all of the oxygen masks deployed," passenger Marty Martinez told CNN's Don Lemon on Tuesday. Martinez, who was sitting two rows behind the blown-out window, added that, "A few seconds later I heard another loud boom and that's when I knew that there was really something wrong because the window was blown out."
Martinez said that once the plane landed, everyone quickly became emotional.
"Everyone was crying around us," he said. "I flew with a colleague and I'll never forget his level of focus on just communicating via text to his pregnant wife back home."