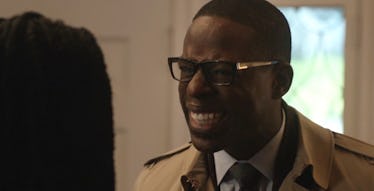 Here's Everything We Know About Randall's Birth Mother On 'This Is Us'
NBC
In the first season of This Is Us, Randall Pearson got to finally meet and connect with his biological father, William, before his death, and now it looked like Season 2 was going to introduce us to Randall's birth mother. In the third episode of the new season, we see a flashback of teenage Randall seemingly getting in touch with his biological mother, until something goes wrong. So who is Randall's birth mother, and did we really meet her in this new episode or not? Here's everything we know now before getting to know more about her in the rest of this season.
Spoiler alert: This post will discuss details from Season 2 Episode 3 of This Is Us. The reveal that Randall's mother may have written back to him while he was a teenager was actually a pretty big bombshell moment, since we had assumed she had died during childbirth. In Tuesday's new episode, we see teenage Randall writing a cryptic letter and sending it in the mail. At first it is unclear whether Randall is writing to his father or mother, but we later find out he was posting an ad to try to track down his biological mother. Soon he gets a response from a woman, but of course since we're watching the most tragic show imaginable, it doesn't end up all happy for young Randall.
Randall agrees to meet the woman who responded to his ad in the park, and it becomes immediately evident that the woman is in fact not his mother. Instead, it seems like she is some rando who responded to the ad to try to squeeze some cash out of a teenager. I still don't fully understand why that's the money-making con this woman went with (like, asking adopted teens for cash doesn't seem super make-it-rich-quick type of stuff), but Randall definitely figures out this woman's game and storms off without having met his birth mother.
Again, it would have actually been a major bombshell moment if Randall's birth mother actually was still alive and met up with him in that park, since William revealed last season that the woman who gave birth to Randall — named Laurel — died in childbirth. Most of us assumed that it was Laurel's tragic, untimely death on top of William's heroin addiction that led the tortured poet to give up Randall as a newborn by leaving him outside of a fire station.
Although the grifter seems to be the show's confirmation that William was telling the truth and Randall's birth mother really did die when he was born, it still seems like her memory will become a pretty big part of the new season. In the present-day portion of the new episode, we see Randall and Beth finally welcome the foster child they've been talking about adopting for the first couple episodes of the season.
Beth and Randall welcome a new teenage daughter named Deja into their home. Her name seems to be a pretty clear reference to Randall's hope that raising an adopted child will be a sort of catharsis for his upbringing as an adopted son who never knew his birth parents. Randall actually gave an emotional talk to Deja towards the end of the episode confirming that he thinks helping to raise her will give a child who isn't connected with their parents the love and stability the Pearsons gave him. In the end, Randall has to break it to Deja that her mother was arrested and thrown into jail (which sounds like a common occurrence for her), but this time she won't be getting out anytime soon. We'll have to wait and see how Randall and Deja's relationship grows throughout the new season, and how his lack of relationship with his birth mother continues to affect him.