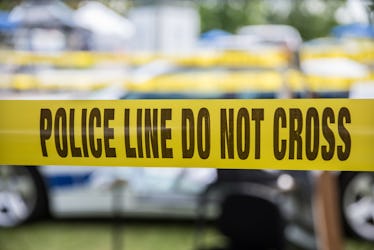 Who Is Quinton Robbins? The 20-Year-Old Las Vegas Shooting Victim Had A "Contagious Laugh & Smile"
StillCallsMeSon/Shutterstock
Late on Sunday, Oct. 1, a mass shooting occurred in Las Vegas, Nevada at the Route 91 Harvest music festival. According to USA Today, at least 58 civilians were killed, and 515 suffered injuries during the tragic attack. Clark County Sheriff Joseph Lombardo spoke Monday stating, "It's a long, laborious process to identify the victims and reunite them with family members to advise them of their situation." A woman named Kilee Wells Sanders took to social media to voice the heartbreaking loss of her nephew, Quinton Robbins. The 20-year-old was a student at the University of Nevada, Las Vegas. And while many of you may still be wondering, "Who is Quinton Robbins?" Sanders didn't hold back on highlighting the incredible person lost in this horrible tragedy. (Update: The shooter has been identified as a Nevada local, who has been confirmed as dead and is not believed to have a connection to any terrorist group.)
In an emotional Facebook post, Robbins' aunt wrote,
With an incredibly heavy heart. My sweetest nephew has passed away. He was the most kind and loving soul. Everyone who met him, loved him. His contagious laugh and smile. He was truly an amazing person. He will be missed by so many, he is loved by so many. So many awesome talents. I can't say enough good about this sweet soul. Because of the gospel and plan of salvation I have faith we will be with him again. Quinton Robbins, I, and your entire family will miss you so much everyday. Always will be thinking about you. Please pray & be there for his parents Tracey Wells Robbins and siblings at this time. If you have memories and photos with him please send them to kileesanders@gmail.com ill put them in a book that way his parents and siblings may have that to keep.
In an interview with Newsweek, Tyce Jones, a family friend, said Robbins was "a pay-it-forward kinda guy." Robbins resided in Henderson, Nevada, and was involved with the local city government. Unearthing genuine qualities of Quinton Robbins to those of us who didn't know him, Jones continued on to say,
[He] always had a smile on his face and was a nice guy. He loved his family and loved to coach his little brother's flag football team. He will be missed.
And while the public may see the faces of these victims in the next coming hours or days, we can hardly fathom the amount of pain and suffering their families are going through. Accounts of who these innocent victims were are sure to continue as more victims become identified by the Las Vegas officials who are working diligently to analyze the horrific scene at the Route 91 Harvest festival. It's unfortunately a waiting game for those families and friends who have not yet made contact with festival-goers at the event this past weekend.
Sadly, because of the death toll totaling more than 50 people, more families will have to endure the indescribable pain of hearing about the loss of their loved ones, and will have to console themselves with memories of the victims.
It's an incredibly sad and distressing time to be scrolling through any form of social media right now. From Facebook to Twitter, names, faces, photos, and videos are flooding timelines. But it's important to remember and honor those who lost their lives.
Slowly but surely, people who were there, who responded, and who lost someone to Sunday night's massacre are speaking out and giving their perspective on the aftermath of what is now "the deadliest mass shooting" to ever occur in America, according to CNN.