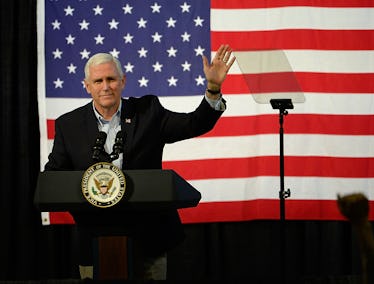 Mike Pence Is Making A Statement Against North Korea With His Olympics Guest
Sara D. Davis/Getty Images News/Getty Images
You may or may not remember the name Otto Warmbier, a name that took over headlines about two years ago. He was an unfortunate prisoner in North Korea and was sentenced to work in a North Korean labor camp as punishment for his alleged crimes against the state. What he endured in that camp ultimately ended his life. And now, Vice President Mike Pence is bringing Otto Warmbier's father, Fred, to the Olympics, further honoring the young student's life.
If you don't remember exactly how and why Otto Warmbier got arrested in North Korea, we'll take you back to the start of this whole ordeal. The 21-year-old student from Wyoming, Ohio was detained as he was about to board a plane to leave North Korea on January 2, 2016. He was finishing up a five-day trip to the country set up by a China-based travel company.
Why was he arrested? The reason wasn't immediately clear. North Korea reportedly claimed that Warmbier wanted to "destroy the country's unity" through an act "tolerated and manipulated by the U.S. government." The government did not explicitly state what that act was.
But later, in a press conference, Warmbier admitted that he attempted to steal a banner with a political slogan from his hotel in Pyongyang. He said that a church member from his hometown allegedly offered him a used car worth $10,000 in exchange for it, according to The New York Times. It also appeared that Warmbier was forced to say that the American government put him up to this so-called crime in the extremely emotional press conference.
You can watch Warmbier's press conference in bull below.
Warmbeir said in the conference,
I never, never should have allowed myself to be lured by the United States administration to commit a crime in this country. I wish that the United States administration never manipulate people like myself in the future to commit crimes against foreign countries. I entirely beg you, the people and government of the DPRK, for your forgiveness. Please! I made the worst mistake of my life!
He was subsequently sentenced to 15 years of hard labor by North Korea's Supreme Court, the media learned on March 16, 2016. America largely had not heard anything about Otto Warmbier for months following the sentencing, until his parents decided to speak out. After allegedly being told by the Obama administration that it would be better if they remained silent, the couple went on Fox News in April 2017 and begged that their son be brought home. They criticized former President Barack Obama for, as they said, not doing enough to release their son from North Korea's control.
Enter Donald Trump, who used this Warmbier narrative to his advantage. He also criticized Obama and said that Warmbier would have been brought home sooner had he been in office at the time. By June 2017, a State Department envoy went to Pyongyang to get Warmbier. But sadly, he was returned to the U.S. in a state of "unresponsive wakefulness," meaning that he was unable to speak, hear, or see due to a brain injury he suffered while he was detained. The injuries ultimately took his life and Warmbier passed away on June 19, 2017.
Trump recently honored Warmbier's parents at his first State of the Union address. Along with his younger brother and sister, Trump recognized the family and highlighted all the suffering that they've had to endure. He said during his speech, "You are powerful witnesses to a menace that threatens our world, and your strength inspires us all. Tonight, we pledge to honor Otto's memory with American resolve."
And now Mike Pence is further honoring Warmbier's legacy by inviting his father to attend the Winter Olympics as his guest. The choice is a poignant one, seeing as the games this year are taking place in PyeongChang in South Korea, dangerously close to the country where Warmbier was detained.
The trip will surely be an emotional one for Warmbier's father. I can't imagine how he might feel once the delegation from North Korea are announced and walk in the opening ceremony parade. But being a guest of the vice president is nothing short of an honor — no matter how painful and unfortunate the circumstance.