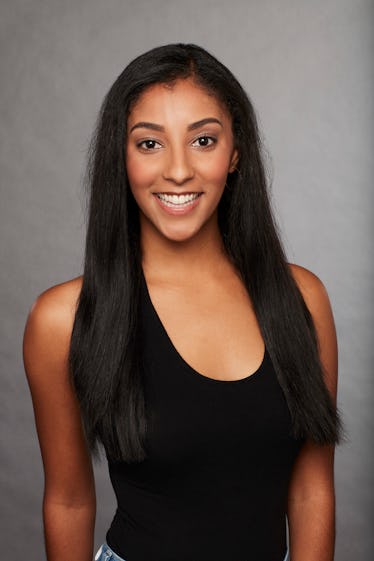 This 'Bachelor In Paradise' Newcomer Had A Quick Connection With Venmo John
ABC/Chris Sjodin
Two new ladies touched down on the Playa Escondida sands for Tuesday, Aug. 28's episode of Bachelor in Paradise. One was Cassandra Ferguson, an alum from Juan Pablo's season and BiP Season 2. The other fresh face was Olivia Goethals. With many couples already paired off, she hit it off with John (also known as Venmo John) immediately. So, just who is Olivia on Bachelor in Paradise? Her affiliation with the Bachelor franchise was short-lived thus far, but it looks like she's already making waves in Mexico.
Don't feel bad if Olivia isn't on your radar. The stunning Chicagoan was eliminated on the premiere of Season 22 and didn't get much screen time. According to her ABC Bachelor bio, Olivia is a Marketing Associate from Geneseo, IL. She also has excellent taste in movies — her faves include Love and Basketball, Forrest Gump, and Mean Girls. As for her personality? She considers herself more outgoing than shy.
"I may start out shy, but once I'm more comfortable I open up and can be quite silly," she wrote.
Following her Bachelor exit, Olivia told The Jam back in January that she applied to go on the dating competition series never "nonchalantly" because she enjoyed Rachel's Bachelorette stint and some of the potential Bachelor contenders hailing from that season. Hmm. #TeamPeter, perhaps? When asked if she could actually see herself actually falling in love in a Bachelor set-up, Olivia felt confident that a real relationship could develop in a reality TV environment. She explained:
Definitely, because you are removed from everything. You don't have your cell phone. You can't talk to your family, friends, your work. You are there strictly for that person, so you are investing everything ... But you are investing so much and you don't have outside communication with anybody and you're going to all these romantic places so you could definitely fall in love.
It sounds like Olivia believes in the process — no wonder she signed on Paradise Season 5.
Considering Bachelor in Paradise's sixth episode was already underway on Tuesday, the majority of contestants were already solidifing what could be lasting relationships. Chelsea was the only woman at the rose ceremony without a partner, so she had to choose between lone-ish rangers John, Benoit, David, and Connor. She picked John based on their growing connection, but maybe their bond wasn't as strong as she thought... As soon as Olivia entered the scene, John appeared single and ready to mingle, taking up her offer to go out together.
"Olivia is an awesome person, she's super high energy," John gushed during their sweet Quinceanera date.
The duo boogied the night away and Olivia noted that she thought his bad dancing was "cute," though John had a different perception of his moves. "Nobody cuts up the dance floor like a programmer does!" he declared confidently. Questionable skills aside, Olivia and John clearly hit it off — they even shared some makeout time.
Will Olivia get John's rose next week? Bachelor Nation is waiting to see if the charming newbie's journey will go better than her last Bach experience.