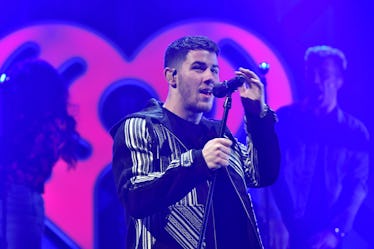 Nick Jonas Might Be Dating This Victoria's Secret Model & We're Here For It
Gustavo Caballero/Getty Images Entertainment/Getty Images
There are pop stars who do not surprise us when they find themselves on the nominations list for Golden Globes. Adele, for instance, gave us an iconic James Bond theme that was destined for awards. Beyoncé, the year she was in Dreamgirls, was a shoo-in for musical nominations. But most movie watchers were startled when the Golden Globes announced one of the nominees this year: Nick Jonas. He's up for Best Original Song for "Home," which was featured in Ferdinand. And as the red carpet for the event approaches, fans are wondering: Who is Nick Jonas dating? Does he have someone to bring to the event? Or could he possibly bring one (or both) of the Jonas brothers with him to bask in this outcome?
As much as some fans might want a Jonas Brothers reunion on the red carpet, the chances of that are slim. Joe Jonas is off with his own band now, DNCE, and Kevin is off... doing whatever it is he was doing last time he showed up on an episode of Real Housewives, I guess. Chances are that Nick Jonas will probably arrive with his fellow nominees for the song "Home" from Ferdinand, Nick Monson and Justin Tranter.
Barring that, he could also turn up with the girl he's rumored to be dating, Georgia Fowler.
Who is Georgia Fowler? She's a model who is part of the Victoria's Secret family, and was part of the "Porcelain Angels" segment of the 2017 TV special.
At age 25, the New Zealand native has been working since she was discovered at the age of 12, and was a sensation in both her home country and Australia before crossing to the U.K. and finally the U.S. Along with Victoria's Secret, Fowler has also graced the catwalks of Miu Miu, TopShop, Max Mara, DKNY, Yeezy, and Elie Saab.
While Nick Jonas has not formally appeared with Fowler in public as of yet, "sources" have been letting People magazine in on the fact that this is his new flame.
Jonas is not looking to settle down but that the two are 'having fun and he thinks she's really hot. They're still getting to know each other,' the source says. 'His friends think she's sweet. He really likes her.'
They do claim that Nick has already introduced the model to his family, and that they were photographed together arriving at Joe Jonas' engagement party in November. (Joe Jonas recently got engaged to Game of Thrones and X-Men star, Sophie Turner.)
But for those who might be worried that the youngest Jonas might be heading to take himself off the market, never fear. While oldest brother Kevin has a wife and two kids already, and Joe is preparing to settle down, Nick has no such intentions yet. E! News spoke to their own sources and said the relationship is in such early days yet, they're not even exclusive.
Nick is dating Georgia. It's very new. She thinks he is very sweet and sexy. Every time they hang out he has been a complete gentleman. They are not exclusive.
Fowler herself has always been tight-lipped over who's she dating in the past, though rumors have linked her to former boy band musicians before. Some have suggested that she is the subject of Harry Style's song "Kiwi." (Kiwi being the slang term for someone from New Zealand.)
This also means that chances are Fowler won't be the one on Jonas' arm when he arrives on the red carpet for the Golden Globes, or at the Oscars, should he be lucky enough to carry his nomination over to that event as well. Too bad, since she'd probably look amazing.