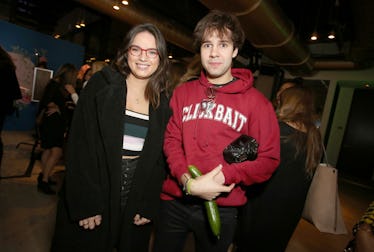 Here's Everything Vlog Squad Fans Need To Know About Natalie
Rachel Murray/Getty Images Entertainment/Getty Images
If you're obsessed with the YouTube star David Dobrik's Vlog Squad (guilty), the name Natalie Mariduena won't be unfamiliar to you. She's Dobrik's hardworking assistant, roommate, and fan-favorite member of the vlogging crew. But despite her massive social media following (she's got a cool 4 million followers on Instagram and 2.4 million on TikTok), many fans may not really know who Natalie Mariduena is. Despite being a main fixture in most of Dobrik's videos, Mariduena is pretty private about her personal life.
Mariduena became Dobrik's assistant after he and fellow Vlog Squad member Jason Nash persuaded her to take the job back in 2017. Mariduena and Dobrikoriginally met as neighbors in their hometown of Vernon Hills, Illinois, and even went to a high school dance together. In a November 2019 interview with Delish, Dobrik admitted he had a crush on Mariduena back in their high school days.
The friends' paths split when Dobrik moved to Los Angeles to pursue his social media-star aspirations and Mariduena stayed in Illinois to attend Lake Forest College, where she studied psychology and environmental studies. Mariduena played soccer while in college, and she "helped [the] Foresters rank fourth in the Midwest Conference in scoring defense during league play" in 2016, according to the college's athletic website. All the while, her friendship with Dobrik survived and flourished despite the distance between them.
Although Nash revealed on Instagram that Mariduena first turned down the offer to be Dobrik's assistant, ultimately accepting the job was clearly not a mistake. Mariduena has expressed that she likes working for Dobrik and wouldn't quit even if she was offered more money by another influencer.
It makes sense, considering Mariduena's job comes with some major perks. She gets to live in Dobrik's mansion and frequently accompanies him to the squad's wild parties, popular music festivals, and even award shows. In May 2019, one of her work weeks consisted of traveling to Boston, MA, then to Las Vegas, NV, and finally to Hawaii, to witness Dobrik and Nash's mother's nuptials (yes, you read that correctly — it was an extreme prank). Mariduena is also regularly tasked with helping Dobrik surprise fans with cash and luxurious gifts (including cars, game consoles, and iPads).
In a November 2019 red carpet interview at the People's Choice Awards, Dobrik called Mariduena "the hardest working person on the team" and one of the women he's inspired by the most, which could be why he gifted her not one, but two cars — a Mercedes for her 22nd birthday and a baby-blue Bronco for her 23rd.
Rumors are constantly swirling about the nature of Mariduena's relationship with Dobrik. Despite the pair insisting they're just friends, many fans believe they have feelings for each other and desperately want them to date (there's no shortage of "cute moments" compilations uploaded to YouTube on the daily).
Could it be possible? Sure. Dobrik and his ex-girlfriend Liza Koshy announced their breakup in June 2018 after two years of dating. Mariduena also seemingly ended a relationship with her ex, Shawn Nelson, not too long after. Even if you disregard the two extravagant gifts Dobrik gave Mariduena, the frequency at which the two appear on each other's Instagrams and their playful chemistry is enough to convince shippers something is going on between them. Plus, according to a lie detector test the pair took in a September 2019 vlog, they don't view each other strictly platonically.
Despite all this, the pair insists they're just friends. Actually, fellow Vlog Squad member Toddy Smith has a long-documented crush on Mariduena. In February, Dobrik and Mariduena teamed up to prank Smith by publishing his flirty late-night texts to Mariduena on an L.A. billboard. However, Mariduena and Smith also maintain they are just friends.
Despite not having a YouTube channel of her own like most Vlog Squad members, Mariduena's devout and ever-growing Instagram following proves she's become an influencer in her own right. It's unclear if she has any aspirations to become a bonafide YouTube star in the future, but whatever personal and professional paths she decides to take, fans hope the Vlog Squad continues to play a role in it.
This article was originally published on