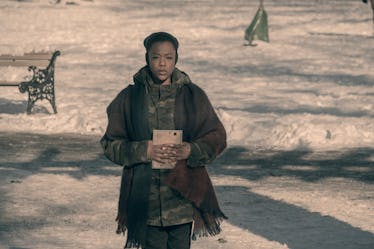 'The Handmaid's Tale' Fans Learned A Major Detail About Moira's Past & It's Heartbreaking
Hulu
While most of The Handmaid's Tale Season 2 has been set in Gilead, ever since Moira made it across the border to Canada, the show has spent time in "Little America," the neighborhood of refugees from the south who made it out of the hellhole that was once the USA. News is hard to come by in Gilead, but in Canada and Little America, they're keeping records of the atrocities being committed and a record of the dead, which Moira is searching through for her fiancée. Who is Moira's fiancée on The Handmaid's Tale? Did she survive the crossing, or is she still trapped in Gilead too? Warning: Spoilers for The Handmaid's Tale Season 2 follow.
Last week's terror attack on the Red Center doesn't just affect those still trapped under a fascist regime; for those who are living in Canada with the survivor's guilt of escaping with their lives, it's a moment of terror those they've been working to free won't live to see. With 31 handmaids killed in the explosion, Moira is terrified for June. But Luke insists she's alive, and he has to just keep hoping.
Worry over the explosion drives Moira to go look up her own fiancée, who she suspects is dead, but has never confirmed. Like Emily, Moira was forced into becoming a handmaid because she was a "gender traitor." Her fiancée disappeared before the war began. Moira never knew what happened to her, but wants to search through the records of the dead, because she has to know.
Moira's search leads her through binders and binders of women. (Yes, literally, binders of images of women killed by Gilead, many of whom don't have names attached to them, just pictures.) As she leafs through it, it leads to flashbacks of her own life back when America was still standing.
Perhaps inspired by seeing June have her own child with Luke, or just a need to pay off her student loans, the flashback reveals Moira researched how much someone will pay for one of her fertile eggs in this world of infertility. Turns out it's a lot: $250,000. Enough to set her up comfortably enough to not only pay off her debts but start her own business. She makes the choice to do it.
June is with Moira every step of the way, from the research to the check-ups to the Lamaze classes. Moira is obviously single throughout the entire ordeal. Her life has two constants in the variable world of pregnancy: June and her doctor. The doctor who oversees Moira's pregnancy is a lovely young blonde woman, who not only does her ultrasounds, but also the pre-natal classes. She's there when Moira gives birth to the child and when Moira is called upon to give it away to the family who paid for it.
Viewers aren't surprised when, a few months after the baby is gone, Moira runs back into her doctor while picking up some wine to take to Luke and June's house for a dinner party. It's adorable, if slightly awkward, and a great meet-cute, as she and Moira pick out a nice bottle of wine together and smile shyly at one another. But when Moira calls her "Doc," she gets back, "You're not my patient anymore. Call me Odette." It's the beginning of something beautiful, and how Moira met the woman she was engaged to be married to when Gilead seized power.
But it's a beauty Gilead destroys. After hours and hours of searching, Moira finally finds what she's looking for: confirmation. Three pictures in the binder of Odette, dead. She was shot and she lies in snowy landscape alone, staring up at the sky.
Moira told Luke she needed to know. And now she knows. Odette did indeed die alone, attempting to escape. Moira can at least mourn her passing, and maybe try to rebuild.