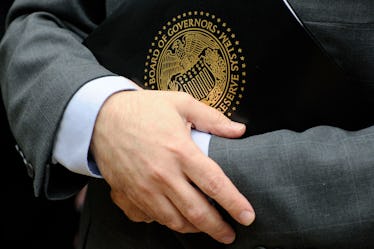 A Trump Appointee Is Reportedly Doing "Loyalty" Checks At The State Dept., & WTF
Jonathan Ernst/Getty Images News/Getty Images
Buckle up everyone, here's a new development in Trump's America that'll have your head reeling. On June 13, reports surfaced that a certain Trump appointee has been compiling a list of diplomats and State Department workers that are "loyal" to Donald Trump, based on their social media pages. So, who is Mari Stull? The self-named "Vino Vixen" and State Dept. employee is all over the news.
On Wednesday June 13, Foreign Policy reported that Mari Stull, a senior advisor to the Bureau of International Organization Affairs (BIOA), has allegedly been searching through the social media pages of diplomats, State Department employees, and United Nations workers to find out more about their political views and loyalties. Stull has allegedly been using the information to compile a list of those who are not "loyal" to the Trump administration. A State spokesperson spoke to Elite Daily via email about the report, but did not directly address the allegations against Stull.
The spokesperson said,
Assistant Secretary Moley and Mari Stull are committed to President Trump's vision of strong American leadership on the world stage, and the mission of the Bureau of International Organization Affairs, which is charged with advancing U.S. national interests by engaging with the United Nations and other international agencies and organizations.
The spokesperson added,
Secretary Pompeo has shown his full support for career staff at the State Department and at the Central Intelligence Agency. Political retribution of any kind will not be tolerated and we take these allegations very seriously.
This is pretty strange already, but just wait because there's more. Stull was hired as a senior adviser in April, but before working in the State Department Stull was a former food and beverage lobbyist, who also blogged about wine under the pseudonym "Vino Vixen" according to Talking Points Memo. So basically, Stull went from blogging about wine to allegedly searching through social media pages of some of the United States' most influential employees. I thought at this point in the year nothing would surprise me, but I guess I've been proven wrong.
Naturally a story like this is going to spark opinions on social media, and Twitter has plenty to say.
On June 13, House Rep. Eliot Engel of the State Department spoke to Talking Points Memo about the list Stull has reportedly been compiling and called it "unacceptable."
"This conduct is totally unacceptable, and adds to my concern about the treatment of career personnel by this administration," Engel told TPM. "I'll be looking into this, and I won't stand for any more stonewalling from the State Department."
In addition, an unnamed senior diplomat spoke to Foreign Policy about the allegations against Stull, and alleged that she is "actively" making lists while serving in the State Department.
"She is actively making lists and gathering intel," the senior diplomat claimed. "She is gunning for American citizens in the U.N. to see if they are toeing the line."
Even though Stull's story is truly one a kind, this isn't the first time conservatives have allegedly been investigating who's loyal to Trump. In March, TPM reported that State Department officials had allegedly been trying to demote career civil servants who appeared "disloyal" to Trump. In addition, employees who worked under former president Barack Obama on issues including the Guantanamo Bay prison prison closure and the Iran nuclear deal were allegedly "forced out of their roles and reassigned to low level work," according to TPM. A State Department spokesperson told Elite Daily by email that "the State Department takes these allegations ... seriously," and added that the department had handled the matter "through all proper channels" at the time.
Another day, another headline. There's truly never a dull moment within the Trump administration.
Perhaps the "Vino Vixen" will be a reoccurring character in the movie future generations inevitably make about the Trump Years. It's too good a name to waste, at least.