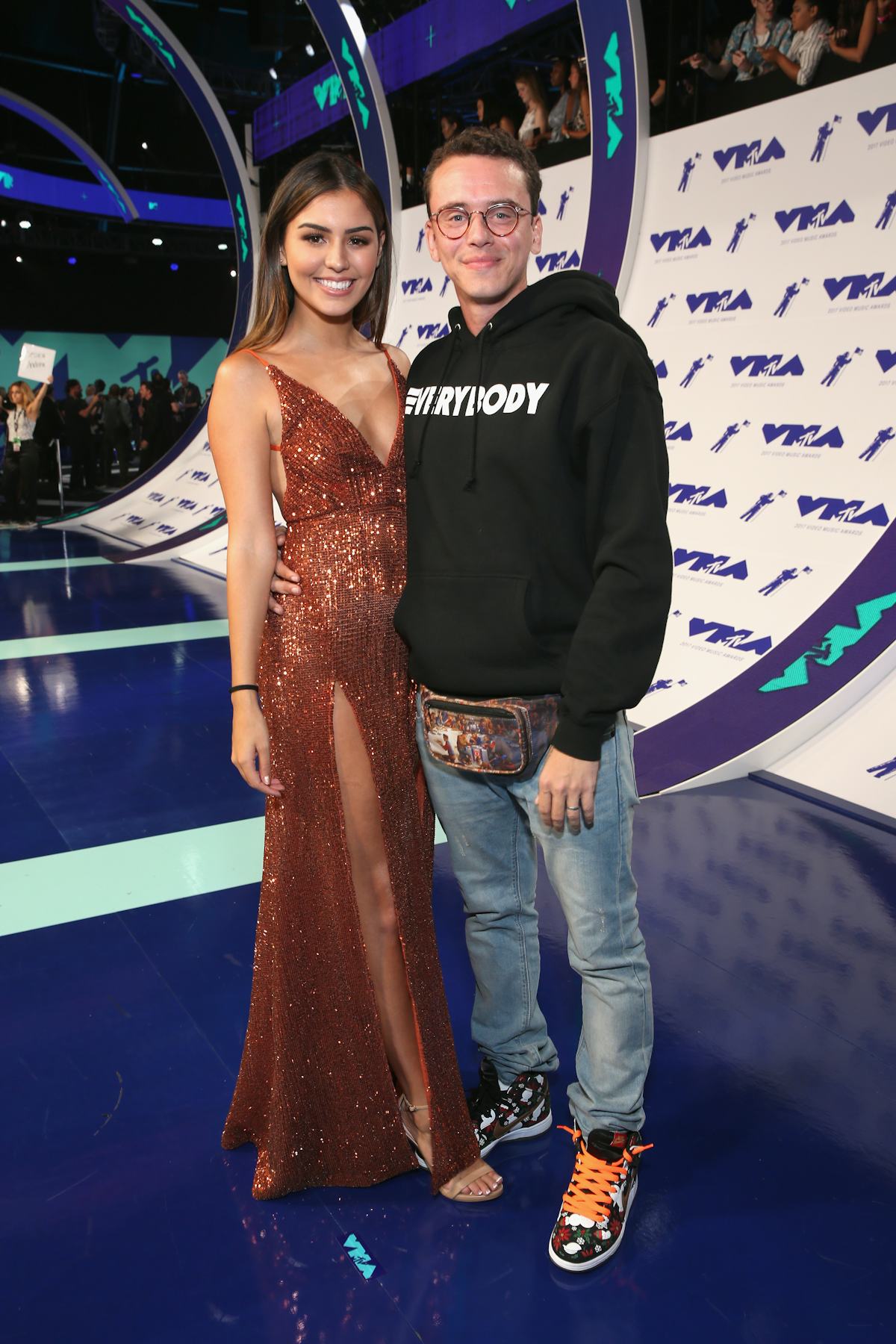 These Photos Of Logic & His Wife Jessica Andrea Will Make You Believe In Love Again
Phillip Faraone/Getty Images Entertainment/Getty Images
If you didn't jump on rapper Logic's bandwagon back in 2010 when he dropped his first official mixtape, his performance at the 2017 Video Music Awards probably solidified you as a fan. If you caught any of the live show, you definitely couldn't miss Logic and his wife, Jessica Andrea, on the red carpet. The two looked gorgeous and genuinely had a great time working the cameras with their silly poses. Who is Logic's wife? Her name is Jessica Andrea, and she has paved quite a path for herself as a social media sensation.
The two married in October of 2015, and are a picture-perfect couple. Logic even got the phrase, "Happy wife, happy life," tattooed on his hand to keep his priorities straight. As far as Andrea, the singer and social media influencer seems to be living life to the fullest. She has just about 760,000 followers on Instagram, 500,000 subscribers to her YouTube channel, and another 100,000 on Twitter — obviously she is well-liked.
Her husband is known for his bangers like "Take It Back" with lyrics that read,
That door you trying to open, you could shut that/Grip the gat, yeah that's how I'ma buck back/Tell me what I am and what I know now/All this prejudice has got to go/Life is moving fast, it need to slow down/Come and see me when I am in yo' town/Practice what we preach before it go down/Practice what we preach before it go
However, Andrea is also an artist and her voice is as smooth as butter. Some of her hits include "Medicine," "Fake It," and "Gossip Girl."
Logic is extremely supportive of his wife's music career. She has even accompanied him on stage to sing "1-800-273-8255."
Besides her vocal talent, Andrea is a total social media star. She posts tons of funny photos and videos, footage from the studio, and memes. Below are five things to know about Jessica Andrea before you see her and Logic on the Grammy's red carpet on Jan. 28.
1. She's a Disney fanatic.
If you're a Disney fan, I guarantee Jessica Andrea still probably likes Disney more than you. She has tons of photos sporting Disney attire and showing off her overall love for everything Disney. If you check out her YouTube channel, "According to Jess," you can see more Disney fandom and the outfits that support the obsession.
2. She loves her hubby.
Logic and Andrea are on three years of marriage and going strong. The two look so happy together, and are always down to share a selfie or quick kissing pic. They also love to make silly videos and laugh together.
3. She's a fan of Aly and AJ (like we all are).
Since Andrea is a singer, she sings a lot on social media. Fans were loving her soulful version of Aly and AJ's "Potential Breakup Song." Nostalgic AF.
4. She's met Ryan Seacrest.
OK, this just seemed like it was worth mentioning. In the caption to this photo, Andrea admits that she used to call into Seacrest's show every morning to try and win tickets when she was in ninth grade. Life really does come full circle.
Ryan, if you're reading this, are you free for lunch sometime? Bring Kris Jenner.
5. She's killing the selfie game.
Obviously, Andrea is gorgeous, which she highlights in her killer selfies. How do people learn how to do this so well? Please share your secrets, Jess.
Andrea and Logic are such an underrated celebrity couple. I think it's about time they get the credit they deserve. Hopefully the two will make another spectacular red carpet appearance at the Grammy Awards. I'm sure I'm going to see some pics that will make my heart explode (or want to eat a whole gallon of ice cream).
Check out the entire Gen Why series and other videos on Facebook and the Bustle app across Apple TV, Roku, and Amazon Fire TV.