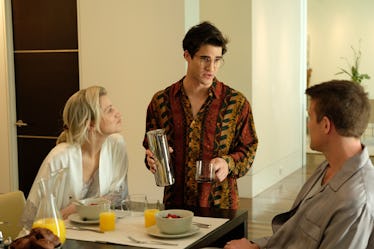 Here's Everything You Need To Know About Elizabeth Cote Before Watching 'American Crime Story'
FX
FX's second season of American Crime Story starts this week. Unlike its first season, which focused on the heavily publicized and televised O.J. Simpson trial, this year focused on a murder that hasn't stayed to the public consciousness over the decades: the murder of Gianni Versace by serial killer Andrew Cunanan. With many of the characters in the series less well known, fans have been focusing on learning their history. For instance, who is Lizzie in American Crime Story? How did she feature in a crime spree that law enforcement didn't take seriously enough until someone famous was killed?
While the title of this season is The Assassination of Gianni Versace: American Crime Story, in truth, Versace, played by Édgar Ramírez, is merely our entry point; it's the famous death that brings our attention to the others who perished. Much of the press ahead of time has focused on Gianni's life and his trailblazing insistence at being an out and proud gay man at a time when that was still rare, even in the fashion industry. It's also focused on the Versace family's negative press campaign response to the coming series. But the reality is this is not Versace's story as much as it is that of the man who allegedly killed him, Andrew Cunanan, played by Darren Criss.
It's important to note that it is an alleged murder because Cunanan was never tried for the murders. Instead, he committed suicide only a few weeks after Versace's death, leaving no note. (Spoiler alert!) But that only adds to the mystery of who he was, and who those around him were and what they knew, and when they knew it. Elizabeth Cote was one of them.
Cunanan didn't grow up to be a killer. He was raised Catholic in Northern California, from an Italian American family. According to Vulgar Favors, the true crime novel that the series is based on, he grew up a smart kid, but by his teenage years had become a habitual liar, and was prone to violence. By the age if 19 he'd come out as gay, and according to newspaper reports of the time, spent the next decade in San Diego living on the largess of his much older lovers.
During that time, he became fast friends with fashionable people. Elizabeth Cote was one of them. She considered him a dear fried, and he was even godfather to two of her children.
It seems as though Cote didn't have any idea that Cunanan went on a killing spree in April of 1997 when he left the west coast. News reports at the time who investigated Cunanan's crime spree all seem to agree that nothing about it was planned, and that, contrary to the rumors that splashed across the news after Versace's death, Cunanan was no "master of disguise." He was a man who accidentally killed once, and then found himself having to do it again and again, just to keep ahead of being caught.
When his name finally emerged in the press after killing Chicago real estate tycoon Lee Miglin, the cops began a manhunt, but lack of technology meant that paperwork simply "got lost in the shuffle." It wasn't until June of 1997 that the FBI named him to their Most Wanted list, and it wasn't until after Versace's murder that the FBI began using friends and family to find him. In an attempt to draw him out, they had Cote record a message to "Andrew" begging him to turn himself in.
Quoted in a Washington Post article from the time, Cote said, in part:
Andrew, wherever you are, please stop what you are doing. . . . You still have a chance to show the entire world the side of you that I and your godchildren know . . . D.D. loves you, Schmoo. I bring with me a special message from our Papoose. Grimmy says she loves her Uncle Monkey, and hopes that you'll remember that always. . . .
The tape came out to late. It is unknown if Cunanan ever saw it. His body was found the next day.
The Assassination of Gianni Versace: American Crime Story airs Jan. 17, 2018 at 10 p.m. ET on FX.