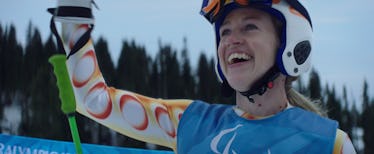 Toyota's Super Bowl Commercial Is About An Inspiring Paralympic Athlete
Toyota
While the Olympics themselves are exciting, it'd be hard to argue that they're more inspiring than the Paralympics, where adaptive sports take center stage. These incredible athletes are doing the same sports as their Olympic peers, but with the added challenge of managing a disability. The magnitude of that is put on display in Toyota's Super Bowl commercial about Lauren Woolstencroft, which is airing during the game on Sunday.
The new ad from Toyota is particularly notable, as it is the first commercial the car company released that doesn't actually feature a car. Instead, the ad is completely focused on Woolstencroft and her story. It's one of three ads Toyota is airing during the Super Bowl.
Woolstencroft, as the commercial notes, is an eight-time Paralympic gold medalist. She is an alpine skier who competed for Canada at the 2002 Winter Paralympics in Salt Lake City, the 2006 Paralympics in Turin, Italy, and the 2010 Vancouver Paralympics. Woolstencroft, who was born without legs below her knees and no left arm below her elbow, began skiing when she was 4 years old.
"If I could describe my journey in the Paralympic Games in one word, I would say determination," Woolstencroft said in a statement about the Toyota commercial. "It's been a wonderful experience partnering with Toyota on this global platform to tell my story of overcoming odds. I hope that my story encourages and inspires others around the world to pursue their passions, and reach for their own personal best."
You can see the commercial here:
The commercial tells the story of Woolstencroft's life and dedication to skiing from her birth through the Paralympic Games. The text on the screen notes the extreme "odds of winning a gold medal," which get better and better as you see Woolstencroft training harder and harder. Finally, as Woolstencroft crosses a finish line, the odds are one to one, and Toyota's "start your impossible" motto shows up.
"When we're free to move, anything is possible," Woolstencroft says in a voiceover at the end of the commercial.
This commercial in particular will be seen in the first ad break after the Super Bowl kickoff, according to a press release. Then, after the halftime show, there will be another minute-long Toyota ad. That one will be about people coming together over sports.
And then in the fourth quarter of the game, the third Toyota ad will air. This one is their "Mobility Anthem," which is all about the importance of movement as a right.
"With the Super Bowl and the Olympics just days apart on NBC, we're excited to join fans' enthusiasm for these two world-class events and connect with them by sharing meaningful and inspiring TV spots," Ed Laukes, group vice president of Toyota Marketing, Toyota Motor North America, said in a statement about the Super Bowl ads.
While the Winter Olympics have their Opening Ceremony in PyeongChang, South Korea on Feb. 9, you'll have to wait a little bit longer for the Paralympic Games, which begin on March 9. And it's well worth the wait to see what these athletes can do.
As Paralympic skier Alana Nichols told me in an interview for Elite Daily last fall,
Tune into the Paralympic Games because you will see things you've never seen before. You will see a single-leg amputee barreling down a mountain on one ski. You'll see somebody like myself with paralysis going 70 miles per hour on a mountain, or athletes playing sled hockey that has enormous amount of contact. ... It's basically the Olympic Games with machines involved. I think everybody needs to see it.
Seriously, you do not want to miss out.