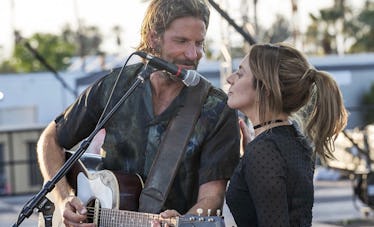 Here's The True Story Behind Lady Gaga's 'A Star Is Born' Character
Warner Bros.
Lady Gaga is a singer-songwriter. Her character Ally in A Star Is Born is a singer-songwriter. But don't expect the film to tell the Lady Gaga story. The movie may look like an authentic biopic, but it's actually.a remake of a story that has a rich cinematic history and goes back over eight decades. With all the buzz surrounding Bradley Cooper's 2018 version, audiences may be wondering: Who is Lady Gaga's A Star Is Born character based on? Well, it's a little more complicated than just a simple answer.
The film is the third remake of the 1937 movie of the same name, which starred Janet Gaynor as an aspiring actress and Fredric March as a washed up movie star who jumpstarts her career. The inspriation behind the original movie has been speculated about for years. Rumor has it that it's based on famed actress Barbara Stanwyck and vaudeville comedian Frank Fay's real-life relationship.
Judy Garland and James Mason headlined the 1954 remake of A Star Is Born, which followed the narrative formula of its predecessor but falls in the musical genre, thanks to its song and dance numbers. The 1976 version saw Barbra Streisand and Kris Kristofferson's edgier interpretation — Kristofferson is a hard-drinking rockstar and Streisand is a pop star on the rise.
The newest version of A Star Is Born's narrative mirrors its former film iterations in a number of ways. Gaga plays Ally, a musician struggling to find her voice. Cooper is Jackson Maine, the over-the-hill country crooner who pushes her to recognize her true potential so she can ultimately shine in the spotlight she deserves. As her career skyrockets, he struggles with hearing loss and addiction. I'm guessing you're starting to see the pattern here.
But where did Cooper get the inspiration for his spin on the classic Hollywood tale?
"The stories that exist in this story, it comes from a very deep personal place and that's the only way that I know how to communicate with many people," Cooper remarked.
And although Lady Gaga's had her fair share of industry struggles, she's also pointed out the differences between her experience and Ally's. She told CinemaBlend:
Transforming into Ally was so different from who I was when I started my career. I just really believed in myself and knew I was going to make this happen. I was running around New York City, just banging down doors, singing my ass off as much as I could, just trying to speak my truth and tell my story and I believed I was going to make it. And if I was not sitting here at this round table with you right now with these incredibly talented people, I would still be in a bar in New York singing.
So, one thing's for certain: A Star Is Born does not chronicle Lady Gaga's rise to superstardom. Perhaps one day fans will get to see her pre-Fame Monster days play out on screen (I'm sure she'd portray her young self to perfection), but this is not that moment.
A Star Is Born is currently in theatres.