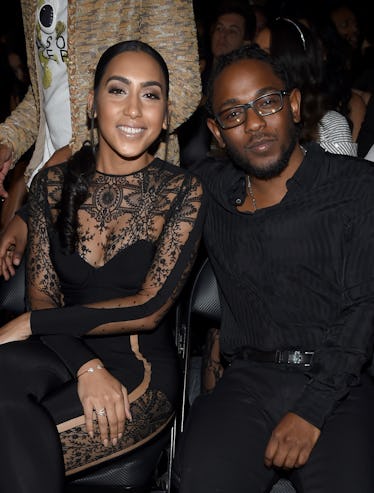 Kendrick Lamar Fell In Love With His High School Sweetheart & We're Swooning
Larry Busacca/Getty Images Entertainment/Getty Images
Kendrick Lamar is one of the top people in the rap world right now. He has a knack for thoughtful lyrics that drive powerful messages AND are also total bops. As it turns out, for all his success in life (and I'm sure some failures along the way), he's had the same woman by his side for it. Who is Kendrick Lamar's fiancé? Her name is Whitney Alford and she's the rapper's high school sweetheart.
Fame would take its toll on anyone, but Lamar knows who the loyal people are in his life and has tightly hung onto them. Lamar has been very open about the fact that the people who surround him have been by his side since "day one." This includes his fiancé who he's been with for over 10 years. Lamar announced their engagement back in April of 2015 on Power 105.1's radio show The Breakfast Club by saying, "Yeah, definitely. I'm loyal to the soil."
Although their relationship remains pretty private, Lamar is vocal about his loyalty to Alford. During an interview with the New York Times in 2014, Lamar said, "She's been here since day one," and is the only person in the world with the power to "call him out."
In addition, Lamar commonly refers to Alford as his "best friend." He told Billboard in 2015,
I wouldn't even call her my girl. That's my best friend. I don't even like the term that society has put in the world as far as being a companion — she's somebody I can tell my fears to.
If that wasn't cute enough, it's believed that Lamar's song "Love" is about Alford. The lyrics to "Love" are (you guessed it) about Lamar's plea to want to love and be loved. The chorus reads,
Give me a run for my money
There is nobody, no one to outrun me
(Another world premiere!)
So give me a run for my money
Sippin' bubbly, feelin' lovely, livin' lovely
Just love me
I wanna be with you, ayy, I wanna be with
Just love me, just love me, just love
I wanna be with you, ayy, I wanna be with
Love me
I wanna be with you
Love me, just love me
Sippin' bubbly and feelin' lovely with Kendrick Lamar sounds like the best. Although he quit drinking as a teenager, I'm sure the two will have their own celebration at the 2018 Grammys to celebrate Lamar's seven nominations.
In the first verse of "Love," Lamar keeps with the theme and calls out his "homie for life." The lyrics read,
Ayy, I got somethin'
Hol' up, we gon' function, no assumptions
Feelin' like Tyson with it
Knock it out twice, I'm with it
Only for the night, I'm kiddin'
Only for life, you're a homie for life
You're a homie for life, let's get it
Hit that shoulder lean
I know what comin' over mean
Backstroke oversea
I know what you need
Already on ten, our money come in
All feeling go out, this feeling don't drought
This party won't end
Alford and Lamar started their journey together at Centennial High School in their hometown of Compton (yes, where Dr. Dre attended school), and have built a rock-solid relationship. The two currently reside in South Bay, a neighboring area to their hometown of Compton, and have managed to keep their relationship almost completely private.
Lamar may be the hottest rapper in the game, but he knows how to keep his friends close and his ride-or-dies even closer. He and Alford low-key just became one of my favorite celebrity couples. Keep killing it, Kendrick.
Check out the entire Gen Why series and other videos on Facebook and the Bustle app across Apple TV, Roku, and Amazon Fire TV.