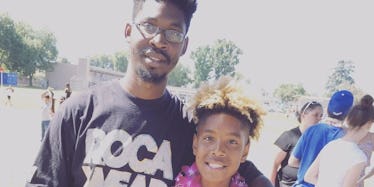 This Heroic Father Was Wounded While Reportedly Saving Dozens During Las Vegas Shooting
On Monday, Oct. 2, as social media feeds were filled with disheartening developments related to America's deadliest shooting in modern history, one photo related to the massacre in Las Vegas went viral for all the right reasons. The photo featured 30-year-old Jonathan Smith, a heroic father who reportedly saved dozens of lives during Sunday's attack before he was shot in the neck himself. On Tuesday, Smith's story was featured in the Washington Post.
According to the Post, Smith is a copy machine repairman from California who had been visiting Las Vegas as part of birthday celebrations for his brother, Louis Rust, who is a country music fan.
Both Smith and Rust — along with other family members — were in attendance at the last day of Vegas' Route 91 Harvest music festival, where country singer Jason Aldean began performing at around 9:40 p.m. local time, the Post reports.
When bullets began raining down on the site where more than 20,000 concertgoers had assembled for the show, Smith helped usher people to safety behind rows of parked cars in a nearby parking lot.
He told the Post,
I got a few people out of there. You could hear the shots. It sounded like it was coming from all over Las Vegas Boulevard.
On Monday, when Washington Post reporter Heather Long posted a photo of Smith on Twitter — along with a caption that indicated he saved nearly 30 lives — the tweet began going viral.
To date, it has been retweeted (in other words, shared) more than 100,000 times.
The attack in Las Vegas resulted in at least 59 people dead and more than 500 injured. Among those injured was, of course, Smith himself, who suffered a fractured collarbone, a cracked rib, and a bruised lung on Sunday night, according to theWashington Post.
Speaking about the moment when he got shot, Smith said,
I couldn't feel anything in my neck. There was a warm sensation in my arm.
He also added,
I might have to live with this bullet for the rest of my life.
Doctors have left the bullet in Smith's neck for now, fearing that moving it would cause more damage to the 30-year-old, the Post reports.
Heroics in Las Vegas
The list of people who moved to saved other people's lives during the attack in Las Vegas doesn't stop at Jonathan Smith.
Multiple news outlets have reported on individuals who risked their safety to help others within the chaotic setting, including an off-duty nurse who told CNN about the efforts of many who responded to danger on the ground.
The nurse said,
We went back because I'm a nurse and I felt I had to. I went to three different scenes and by the time I got to the third one, there was just dead bodies. There was so many people, just normal citizens, doctors, cops, paramedics, nurses, just off duty. Everyone was just communicating and working together. It was completely horrible, but it was absolutely amazing to see all of those people come together.
While many stories labeled these people heroes, Smith, for his part, distanced himself from any special distinction.
He told the Washington Post,
I don't see myself that way. I would want someone to do the same for me. No one deserves to lose a life coming to a country festival.
The attack in Las Vegas became the deadliest mass shooting in American history after the death toll eclipsed the 49 fatalities that resulted from the 2016 shooting at Orlando's Pulse gay night club.
A GoFundMe campaign has been created to help Smith pay for his medical expenses.