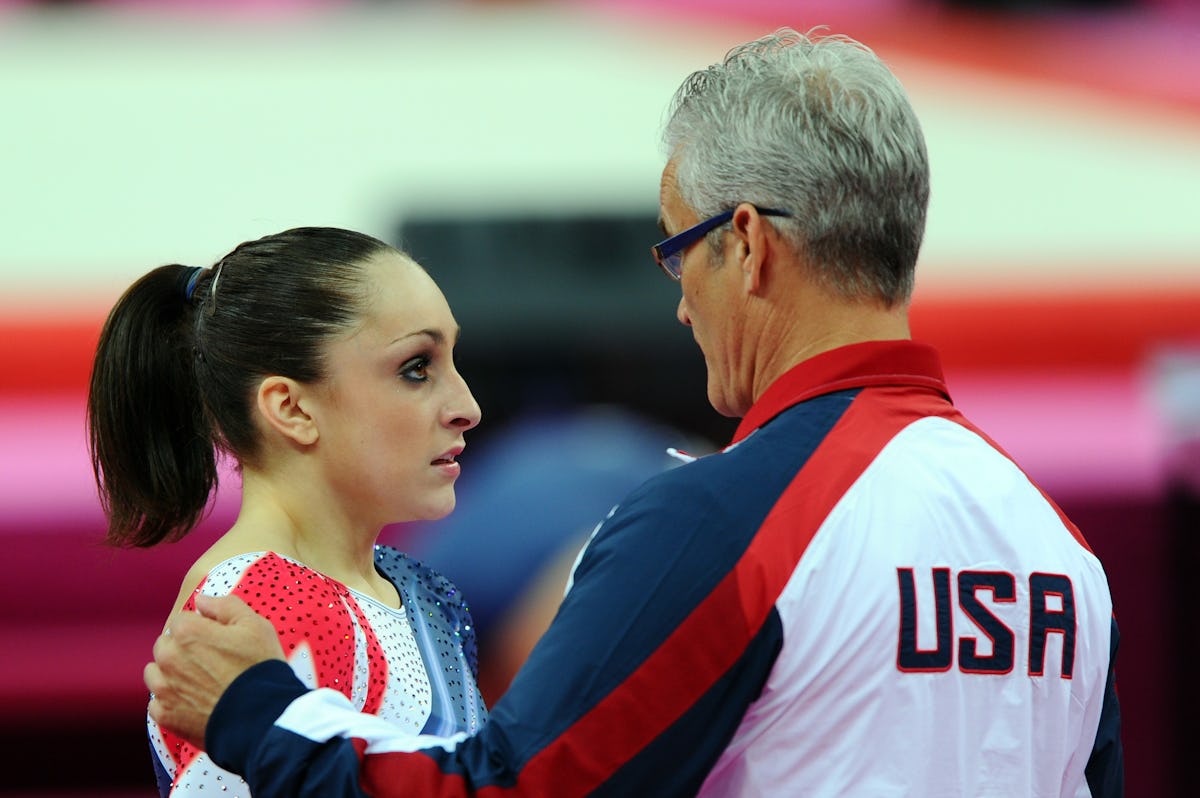 An Olympics Gymnastics Coach Is Now Under Investigation After The Nassar Case
Michael Regan/Getty Images Sport/Getty Images
On Tuesday, Feb. 6, the Lansing State Journal reported that John Geddert, a gymnastics coach, is under investigation by the Eaton County Sheriff's Office in Michigan. "There are new people coming forward" with complaints, a sheriff's office spokeswoman told Lansing State Journal, but it is unclear exactly what those complaints are at this time. This investigation comes just after sentencing trials concluded for disgraced former doctor Larry Nassar, who was associated with Geddert.
Geddert has had a long history at the top echelons of women's gymnastics. He was the coach for the national women's gymnastics team at both the 2011 World Championships and the 2012 London Olympics, where the so-called "Fierce Five" team won the gold. Geddert was also the personal coach to Fierce Five member Jordyn Wieber, who gave an emotional testimony in the Nassar sentencing trial last month alleging that Nassar abused her leading up to the 2012 Olympics. Geddert owned the famed gymnastics gym Twistars in Michigan, which was a USA Gymnastics member. In late January, he transferred Twistars' management to his wife. Elite Daily reached out to USA Gymnastics and Twistars for comment on the investigation, but did not hear back at time of publication.
That transfer happened soon after USA Gymnastics suspended Geddert. USA Gym said in a statement, according to ESPN, "John Geddert has been suspended under the interim measures provisions of Section 10.5 of USA Gymnastics' Bylaws. USA Gymnastics is unable to comment further as this is a pending matter." That bylaw allows for USA Gym to make temporary actions "to ensure the safety and well-being of the gymnastics community or where an allegation is sufficiently serious that an Adverse Party's continued participation could be detrimental to the sport or its reputation."
The suspension means that Twistars is now "under review" as a USA Gymnastics member, according to Lansing State Journal. Also after the suspension, Geddert announced plans to retire in an email to Twistars members. "Most of you have noticed that I have been taking a back seat this year," Geddert said in the email, which was obtained by Lansing State Journal. "This has been part of my exit strategy to retire at age 60. Well 60 is here."
Larry Nassar worked at Twistars, and many women alleged that he abused them there.
Geddert and Twistars came up many times during the victim impact statements delivered over the course of Nassar's two sentencing trials for the ten counts of criminal sexual conduct that he pleaded guilty to. One anonymous victim claimed in her impact statement that her mother told Geddert that Nassar had done "an inappropriate procedure" on her in 1998 after Nassar assaulted her during what was supposed to be a treatment. "Why would John continue to refer his athletes to Larry knowing full well of his treatments?" she asked in court.
Geddert's lawyer has previously said that he had "zero knowledge" of Nassar's abuse, according to NBC News. His attorney added in a statement that Geddert "only wishes to convey his heartfelt sympathy to all victims of Larry Nassar." Geddert has not commented on the new reports of an investigation on himself.
The victim impact statements at Nassar's sentencing trial made it clear that Geddert was known to be a very intense and demanding coach. Many women claimed that Geddert physically abused them during training. They claimed that Geddert's harshness enabled Nassar, as he presented himself as a friendly and helpful person counter to Geddert's harsh demands. "He deserves to be in jail with Larry," Lindsey Lemke, who trained at Twistars and Michigan State University, said in her victim impact statement, adding that Geddert "was abusive."
Geddert has, in fact, been investigated twice by police for reports of physical assault, ESPN reported. According to Lansing State Journal, Geddert was investigated in 2011 and 2013. He was cleared of criminal charges in both cases, police records show. In 2011, an employee claimed that Geddert assaulted her during an argument outside of Twistars. In 2013, a gymnast claimed Geddert physically attacked her after getting angry during a practice. Geddert told police he had grabbed her arm, but just to "set her down on a bench," according to investigators. Charges were not pressed, but Geddert was ordered to complete counseling, which he did before November 2014.
"I know my shortcomings as a coach: I have high expectations and high standards, and I am passionate about coaching our gymnasts to realize their full potential," Geddert wrote in his January email announcing his retirement plans.