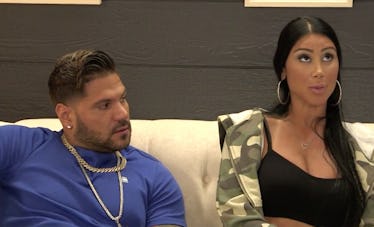 Angelina's Friend On 'Jersey Shore Family Vacation' Is Causing More Ron Drama
MTV
This week's new episode of Jersey Shore Family Vacation probably had viewers experiencing some major deja vu. After Angelina introduced the house to her friend Lindsay, who goes by the name Jewish Barbie, Ronnie got up to almost the exact same cheating antics that we saw from him in Season 1 of the reunion series. The one that infamously ended in a massive fight between him and his baby mama Jen. So, who is Jewish Barbie on Jersey Shore Family Vacation and did Ronnie really cheat on reality TV again? Let's get into it.
Lindsay, A.K.A. Jewish Barbie, first shows up on Thursday night's new episode of Jersey Shore Family Vacation while the gang is day drinking at a club. Well, actually it was much more eating than drinking, since Mike decided to try his hand at a seemingly impossible burger challenge consisting of like 10 cheeseburger patties stacked on top of one another. After all that food, it made sense that the housemates would want to go back home right away, even though Angelina had just introduced everyone to her friend. All we really know about Jewish Barbie is that she is close friends with Angelina, and the bio on her private Instagram lists her professions as an actress, model, and video vixen.
The roommates did get to know Jewish Barbie a lot better that night, though, when she met up with them at another bar. She seemed to immediately hit it off with Pauly D and Vinny, since they are the only two single guys in the house, and it sparked a guessing game of which guy would end up with Jewish Barbie at the end of the night.
But things took a turn for the yikes after Ronnie got into yet another texting fight with his on-again-off-again girlfriend Jen. When everyone was heading back to the house, Ronnie quickly jumped in a cab with Jewish Barbie and began flirting.
At this point, all of the castmates as well as viewers knew that this was the start of another cheating scandal. In the first season of Jersey Shore Family Vacation, Ronnie got friendly with a woman whom the house dubbed French Fries after he gave her a tour around the Miami beach house one drunken night. At that time, Ronnie was still dating Jen, who was pregnant with his daughter Ariana, and it led to a massive fight for the couple. Even though Ronnie and Jen have had even bigger fights and breakups since then, the two are supposedly still together during this Jewish Barbie event as well.
Back at the house, all of the roommates make some pretty clear jokes about how Ronnie is repeating his past behavior, but that does not deter Ronnie at all. He and Jewish Barbie are the only two people to go to the jacuzzi at the end of the night, with the rest of the housemates worriedly/excitedly watching from a balcony. Finally, the two come inside and Jewish Barbie lays down in Ronnie's bed and Ronnie resignedly says "And there goes my life."
The episode ends before we get any confirmation on whether or not Ronnie really did cheat, but the footage is pretty damning. It's almost a guarantee that next week's episode of Jersey Shore Family Vacation will be all about this familiar Ronnie cheating drama.