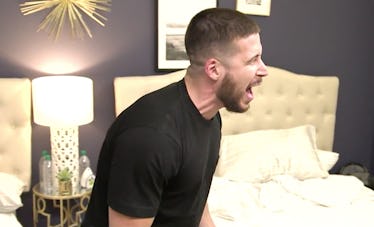 Vinny & Angelina's Massive Fight On 'Jersey Shore Family Vacation' Was Hard To Watch
MTV
We all know that Jersey Shore is no stranger to physical violence — who can forget iconic moments like JWoww backhanding Mike, Mike headbutting a wall, and Snooki getting punched at a bar — but Thursday night's new episode of Family Vacation did not need any punching or hitting to deliver one of the most brutal fights in the franchise's history. Vinny and Angelina's fight on Jersey Shore Family Vacation this week caught everyone off guard, because it was without a doubt the angriest we have ever seen Vinny.
The tension between Vinny and Angelina had been growing all season, so we all knew that a blow-up was coming, but Vinny and Angelina's fight on Thursday night's new episode of Jersey Shore Family Vacation was so much nastier and realer than anyone was prepared for. For the past few episodes, the big joke that everyone on the show has been repeating was that Vinny and Angelina are secretly in love and going to hook up. While Angelina seems to love playing along with this idea whenever possible, Vinny always seems uncomfortable with it. This has lead to a bunch of awkward moments and some small fights between the two, and it all finally came to a head on the latest episode.
Things started getting bad after everyone got back from a night of drinking, and the rest of the housemates decided to drunkenly egg Angelina on to get in bed with Vinny. The two began to fight, and it was clearly just playful until Vinny said that Anglina groped him. The next morning, Vinny decided to ice Angelina out, but she did not want to leave him alone. At the beach, Vinny confided in JWoww that he does not plan to interact with Angelina for the rest of the trip.
At family dinner that night, the fight reached its fever pitch. Angelina continually asserted that Vinny was obsessed with her while Vinny continually screamed back, "Leave me alone!" The screaming got so intense that at one point it looked like things might get physical. Ronnie pointed out what everyone was thinking: This is the first time anyone has seen the usually easy-going Vinny become so scarily angry.
With the episode ending during this intense blow-up, some fans might even be wondering if either Vinny or Angelina might leave the show for a while. After all, Vinny has made it clear that he does not want to see or talk to Angelina — he even grieved that he could not just cut her out of his life as he would normally do because of Jersey Shore Family Vacation.
We might end up seeing Vinny go home early if Angelina sticks around, or Vinny might convince everyone else to stop inviting Angelina on future trips, since she is a relatively recent re-addition to the group anyway. One thing that is for sure: There is always going to be a whole lot of tension in the room whenever Vinny and Angelina are together.
Jersey Shore Family Vacation airs Thursday nights at 8 p.m. ET on MTV.