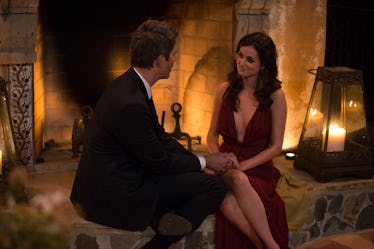 You'll Definitely Remember This New 'Paradise' Contestant From Arie's Season
ABC
On Arie Luyendyk's season of The Bachelor, contestant Jacqueline Trumbull became the token lady who chose to step away from the show after accepting that the likelihood of her ending up with Arie in real life was slim. On the long path to receiving her PhD in chemical psychology, Jacqueline chose embracing her own future rather than pursuing more time with Arie despite doubts about their bond. The classy New Yorker popped up on the beach in Week 3 of Bachelor in Paradise, so in case your memory is a little foggy, who is Jacqueline on Bachelor in Paradise?
As seen last week, fellow Season 22 contestant Annaliese Puccini freaked out when her initial love interest Jordan Kimball clicked with Jenna Cooper and . With the rose ceremony quickly approaching, Annaliese somewhat set her sights on pro wrestler Kenny King, newly available after Krystal Nielson dumped him for Kevin Wendt. However, when Jacqueline made her grand entrance on the beach, the soft-spoken research coordinator asked Kenny out on a date after Colton Underwood turned down her initial request.
Bachelor Nation's memory of Jacqueline may have faded a little bit since The Bachelor wrapped, but during her previous stint on TV, fans appreciated her for her mature approach to the process. After being a background player, Jacqueline finally scored a one-on-one date with Arie in Paris, and although Arie seemed to view her professional ambitions as an "obstacle" in their relationship, the two managed to have an enjoyable time in the City of Light. According to Jacqueline, she even had a say in where they ate dinner, so she must be pretty amazing if she managed to sway Bachelor producers.
The following week, the remaining women and Arie visited Tuscany, where Jacqueline continued to doubt herself and her connection with Arie. After speaking to Arie about her feelings, she ultimately chose to walk away, low-key picking the validation of her own dreams over Arie's. You do you, girl!
Now in Paradise, Jacqueline has unintentionally stirred the pot when it comes to the women making steady matches with people. Annaliese hasn't found her niche yet, while Caroline Lunny is floundering after her date John Graham clicked more with new arrival Jubilee Sharpe. A man without a definite partner is a rare find at this point of Paradise, causing chaos for anyone who hasn't formed a relationship or at least a loyal friendship.
Although it flew by compared to the amount of airtime Tia and Colton updates receive, the pair's date was sweet and romantic, going far beyond Jacqueline's expectations. However, it seemed to insert her into a throng of women trying to catch Kenny's attention. After their date, Annaliese chatted with Kenny and kissed him, but seeing as we didn't see any footage of Jacqueline watching the makeout from a bush à la Caroline spying on John and Jubilee, maybe she's meant to just be friends with Kenny. She may have made a quiet mark on Paradise this week, but Jacqueline's arrival definitely reminded the other women that nothing is guaranteed on this show.
Bachelor in Paradise returns on Tuesday, Aug. 21, at 8 p.m. ET on ABC.