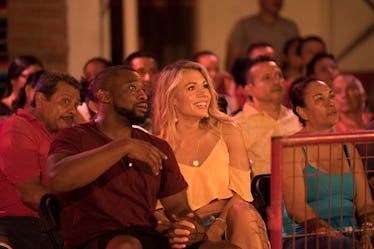 Krystal & Kenny's Date On 'Bachelor In Paradise' Was Honestly So Fitting
ABC
If you're still dreaming of an alternate universe in which we were blessed with Kenny King as the Bachelor, his wrestling date with Krystal Nielson on Bachelor in Paradise essentially brought us insight into how that world would have looked. On a perfectly catered night out, Kenny invited Krystal to what turned out to be a Mexican wrestling match and, no surprise, pro-wrestler Kenny ended up in the ring showing off his skills. Krystal and Kenny's date on Bachelor in Paradise was so fitting that it looked like Kenny was right at home. Who wouldn't love a first date right in their comfort zone?
After essentially speed-dating the women before deciding who to bring on a date, Kenny narrowed in on Krystal, despite her having an early connection with Bachelor Winter Games champ Kevin Wendt. While these two definitely emulate a bit of an Odd Couple scenario, Krystal seemed aware of Kenny's wrestling history and used that knowledge to her benefit. After all, she was on The Bachelor's GLOW-themed wrestling group date that Kenny crashed to throw Arie Luyendyk around the ring, and it looks like Krystal brushed up on facts about the sport since then.
As the date card read, "Who will be your match?," Krystal figured that their evening would focus on Lucha Libra, which is the Mexican term for professional wrestling. The pair sat ringside at a match before a wrestler began flirting with Krystal and egging on Kenny, prompting him to rip off his shirt and hop into the ring to defend her honor. Totally spontaneous, right?
Eh, probably not, but it's still fun to watch.
Proving that Paradise has been the ultimate chill pill for her, Krystal adored Kenny's rise to action, saying, "It was so cool to watch Kenny get up on the stage and shine! I don't want to say it was a beautiful sight, but it was, like, beautiful!" It's great not having to root for Arie in a wrestling match anymore, right, Krystal?
Knocking out his opponent with a chair, Kenny won his match, seemingly forever winning Krystal's favor. After the season's first episode essentially being the Tia-helmed Bachelorette season that never was, seeing these two crazy kids have a drama-free night was surprisingly cute. Plus, three cheers for contestants over 30 getting some love!
After wrestling, Kenny asked about the negativity Krystal faced for her Bachelor actions. She admitted to falling victim to the stress of the situation, which helped her become a better person and join the Paradise cast. The two also bonded over both having two-on-one dates. Kenny had his heated moment in the spotlight thanks to a faceoff with controversial contestant Lee Garrett on Rachel Lindsay's season. Remember when our greatest issue with The Bachelorette was a non-contender being racist? Those were much simpler times compared to this year's Bachelorette drama, just saying.
Sealing the night with a kiss while Kevin cozied up to Bachelor Season 21 alum Astrid, Kenny and Krystal's night ended on smooth terms. According to Twitter, I'm not the only fan who warmed up to these two by the end of their date, but then again, such surprises are what Paradise is for, right?
Bachelor in Paradise — making you fall in love with weird couples since 2014. Love is real, guys!
Season 5 of Bachelor in Paradise returns on Tuesday, Aug. 14, at 8 p.m. ET on ABC.