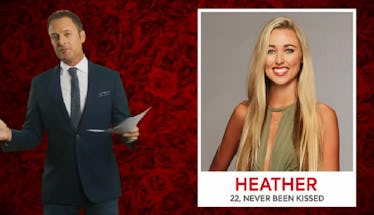 Yep, There's A Woman On 'The Bachelor' This Season That's Never Been Kissed
ABC
New Bachelor Colton Underwood is making headlines for being the first true virgin lead of the ABC franchise. While the network definitely isn't shying away from jokes about the former NFL player's virginity, it turns out that Colton isn't alone in that quality at the mansion this year. Who is Heather? The 22-year-old Bachelor contestant has never been kissed and is the token virgin among the women of the season.
Now that its long-standing virgin Ashley Iaconetti is an engaged woman, the Bachelor franchise has seemingly found another contestant to take her place. When introducing all 30 of Season 23's contestants in a Facebook livestream, host Chris Harrison introduced Heather as the Drew Barrymore of the group. Yep, she's never been kissed, and being a virgin goes along with that label. Originally from Carlsbad, California, Heather likely has an actual job, but it wasn't included in the livestream or her contestant bio, which reads:
Born and raised in San Diego, California, Heather is a Southern California girl through and through. She's a thrill-seeker who enjoys bungee jumping, skydiving and river-rafting. But out of all the thrilling things Heather's done, there's still one thrill she's yet to experience—she's never kissed a boy!
Seeing as the last 22-year-old we saw on The Bachelor was Bekah Martinez, who was always quick to remind us how experienced and mature she was, Heather's casting is definitely interesting. No matter how much ABC has been joking about Colton's virginity, there's obviously no shame in being a virgin or even never having kissed someone. However, Heather may still find herself a target of other women's nasty comments during the season. After all, Ashley I. was no stranger to being the butt of people's jokes, but she did acknowledge that talking about her virginity on Season 19 of The Bachelor was difficult.
Following Colton's own Bachelorette confession about being a virgin earlier this year, Ashley told PEOPLE:
You really don't even have any idea how awkward it is to talk about that and reveal that on camera unless you've done it. I said it to Chris Soules on that season and I have to be honest, I didn't think that he thought it was very attractive. I think he stopped looking at me as a sexual object at that point — I felt a change in our relationship... what I am really tired of is the show making it seem like such a big deal, such a big reveal — like it's even something we have to talk about at this point in a relationship.
We'll have to wait and see how or if Heather talks to Colton about their shared status, but kudos to her for being upfront about it on TV. It can't be easy, but as long as she discusses as much or as little as she wants to, we can't help but support her.
Season 23 of The Bachelor premieres on Monday, Jan. 7, at 8 p.m. ET in a live, three-hour special on ABC.