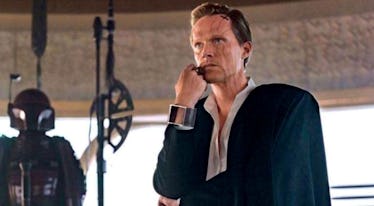 Here's Everything 'Star Wars' Fans Should Know About Dryden Vos Before Seeing 'Solo'
Lucasfilm
What is any good Star Wars story without a positively devious villain? In most of the main movies, these villains come the way of the Force-wielding heads of the Empire or the Sith, but Solo: A Star Wars Story introduced a more grounded, but equally terrifying, new big bad. Before you check out the new Han Solo flick for yourself, you might want to know who Dryden Vos is in Solo: A Star Wars Story and how the powerful new villain poses a threat for Solo. After all, there are a ton of confusing names flying around in the sprawling Star Wars franchise, so doing a little research beforehand can go a long way in keeping everything straight.
Let's start out with the basics. Dryden Vos is a crime lord who is high up in a powerful crime syndicate called Crimson Dawn. He is seemingly near-human, with long red lines running across his face. Vos is played by Paul Bettany, who has starred as Vision in the Marvel movies for the past several years. Dryden Vos actually wound up looking a lot different than the original filmmakers had conceived of him. Before the original directors Christopher Miller and Phil Lord left the movie, The Wire star Michael Kenneth Williams was portraying Vos in a motion capture role, and Vos was meant to be an alien creature that resembled a mountain lion. However, the film's final director Ron Howard decided to simplify the character's appearance.
Another question that diehard Star Wars fans may be wondering is if his last name may have an important connection. But no, Dryden Vos is not related to Quinlan Vos, the Jedi Master that fans know from The Clone Wars, as Lucasfilm confirmed in a casting announcement.
In Solo: A Star Wars Story, Han Solo will find himself in hot water with Dryden Vos after unwittingly entering into a heist with the Crimson Dawn. That is pretty much all I can tell you about Dryden Vos without giving away plot details from the movie, but it should be more than enough to give anyone preparing to see Solo some solid background info on the movie's new villain. I can go into some more detail about Dryden Vos and the Crimson Dawn below, but here is where you should stop if you haven't seen the movie yet.
Spoiler alert: The rest of this post contains plot details from Solo: A Star Wars Story. Obviously, throughout the course of Solo: A Star Wars Story, we learn a lot more about Dryden Vos. He is introduced as a very lavish and opulent collector, known for his gigantic yacht filled with treasures from across the galaxy. But he is also not above getting his hands dirty — we see him kill a man with his signature red knives before meeting up with Tobias Beckett, Han Solo, Chewbacca, and Qi'ra at one of his parties. Though he has no problem with killing, he also does not rush into it, and accepts deal with Beckett and Solo that they retrieve a dangerous amount of hyperfuel in order to make up for failing to deliver a payment to him.
It is also revealed that Qi'ra is somehow beholden to Dryden Vos. She is marked by the Crimson Dawn symbol on her wrist, and tells Han that Vos saved her once. But in the very end, Qi'ra betrays Vos by stabbing him in the chest in order to save Han. However, Dryden Vos was really never the head honcho in charge of Crimson Dawn. After killing Vos, Qi'ra calls Darth Maul, revealing that he was always the real controlling power of the crime syndicate.
Unfortunately, it seems pretty clear that Dryden Vos will not be back for any more Star Wars movies — unless they do more prequels that go even further into the past — but he definitely served as a fun and menacing villain for Solo: A Star Wars Story.