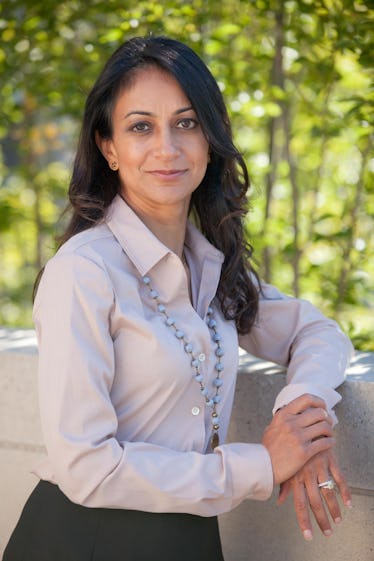 How This Former Wall Street Woman Plans To Re-Inspire Democrats With Possible Run For Governor – EXCLUSIVE
Dita Bhargava Campaign
When the Republican Party won the 2016 presidential election, many Democrats across the United States were completely shocked. While the feeling of defeat lingered into the new year for many Democrats, it ignited a flame for one former Wall Street trader and progressive, Dita Bhargava. In January, Bhargava, 45, decided to run for Vice Chair of the Connecticut Democratic Party. After making the transition from the financial sector into the political arena, it didn't take long for her to realize her full potential in politics. On Sept. 12, the Bhargava announced her exploration to run for Connecticut governor in 2018. The "pro-business" feminist, who was raised by an immigrant single mother and has a degree in computer coding and engineering, is bringing back the Obama-era campaign of "hope and change" with a fresh outlook on politics and a knack for facing challenges head on that people say are impossible.
"After the Democrats lost, I realized there was no time for complacency. We [Democrats] had somehow lost our message to the people that we care about the most. I felt passionate about the fact that the Democratic party needed new leadership," Bhargava tells me in an interview for Elite Daily. After being unanimously voted for Vice Chair of the party, she saw that "Democrats also realized they needed to bring people from outside of the party with fresh energy and novel ideas."
Since her announcement to explore a run for governor, she has spent time traveling across Connecticut, the state she, her husband, and her two kids call home. She was disheartened by the lack of enthusiasm Democrats had in the future of Connecticut. The state of Connecticut has historically held a Democratic majority, with Democrats holding legislature for all but two years since 1992. "Connecticut has had a Democratic majority for forever, but the State Senate is now tied," Bhargava says.
"I think what people, including myself, are nervous about is that if we can't hold a majority and we can't give our own Democrats hope in this state, we might lose that majority at the worst possible time in history ever," Bhargava says, in reference to the Trump administration.
"We've lost over 50 seats in the last 10 years, but we have made so much progress on corrective ideas like gun legislation and equal pay," she says. Equal pay and paid leave for families are part of the cornerstone to her campaign. Last year, she co-founded the Parity Partnership of Connecticut, an organization dedicated to research about gender inequality, with a goal of advocating for paid family leave.
Bhargava, who was raised by an immigrant single mother who raised three daughters in Canada while working multiple jobs, believes strongly in the benefits of paid family leave for the whole country.
"I'm more progressive than probably any candidate out there. The reason why I thought about entering into the political arena is because I was just so beside myself that our country, a developed nation, doesn't have paid family leave," she says.
After reading Secretary of Labor under President Barack Obama Thomas E. Perez's paper, "The Cost of Doing Nothing," she was inspired to change policy. The paper notes that if the U.S. empowered women to stay in the workforce at the same rate that Germany and Canada do, it would add $500 billion to our economy.
"I always like to look at social issues through an economic lens," Bhargava says. She refers to paid family leave as a "low hanging fruit," that should be adopted because, "it's not just the right thing to do, it's the smart thing to do."
After both 20 years in the private sector and having her own kids, Bhargava understood the fortunate she had in accessing good education despite economic challenges.
"There are so many people in our backyard that are struggling the same way my mom did, and we should be introducing policies that help empower them. It's not only for them, the entire country will do better if we have smart policy," she says.
Another cornerstone to her pro-business progressive campaign to revamp her state's economy is education, which she believes brings economic liberty.
"We need to strengthen our pipeline of college graduates, because businesses have told me they don't see a long term future in Connecticut. That's the reason why a lot of businesses are leaving, because they don't have that pipeline of talent. If we keep our college students in state, businesses will stay," Bhargava says.
While the Democrat is filled with new ideas and policies for her campaign, she recognizes the challenges of running as a woman of color, as well as an outsider to the political realm. Rather than see those as hindrances, she embraces challenge willingly.
"I'm not scared of a challenge, I almost walk right towards them. I'm not doing this because I'm a woman of color, I'm doing this because I think I have the best ideas to move our state forward economically. I do think its very important for women in any industry, where women are underrepresented, to lean forward," she says.
Bhargava has been told she couldn't do a plethora of things in her life, be it playing the drums, being the only girl in her college coding class, or being a woman of color on a trading floor on Wall Street.
"Do I expect people to react different ways to what I look like? Possibly, but it's not going to stop me because I do think that I am the right candidate for Connecticut right now," she says.
The Democrat has no problem proving people wrong and has been doing so her whole life. As she said in her introductory video produced by Mark Putnam, a media adviser to the Obama campaigns of 2008 and 2012, "Don't write me off until you see what I can do…"