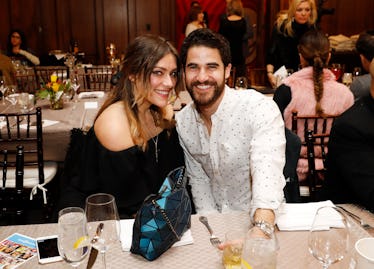 Darren Criss Gave An Emotional Tribute To His Fiancée After Winning His First Emmy Award
Kim Raff/Getty Images Entertainment/Getty Images
The Emmy Awards made history on Sept. 17, with awards for Marvelous Mrs. Maisel in the comedy categories, and splitting the wins for the Limited Series categories between Netflix's Godless and FX's American Crime Story: The Assassination of Gianni Versace. The latter garnered an Emmy for Ryan Murphy for writing, and it also awarded Darren Criss for the lead role, where he thanked his fiance, calling her the "roll down the windows and turn the music up" in his life. Who is Darren Criss' fiancée? Her name is Mia Swier, and she's fantastic.
Criss' wife-to-be is in the industry, but she's not an actress. People magazine describes her as having worked for networks like Showtime and FOX and notes she has a degree in Media Studies and Television Production. So, she's in the business, but not in front of the camera.
But then again, Criss has been with Swier so long, their relationship started before he was in front of the camera. When they got engaged at the beginning of this year, he noted they'd been together for seven and a half years already.
Mia and I have had seven and a half years of fun, wacky, wonderful, CRAZY adventures together. And I'm happy to announce that we're kicking those adventures up a notch. We're goin for it. To boldly go where neither of us have gone before. Engage.
This means they were together before he was cast in Glee. (Criss wasn't announced as joining the cast until September of 2010.)
But while some actors might forget to thank their wives or lose their heads and forget their families the first time they get sent to the podium to be handed an Emmy Award, Criss kept his cool and thanked his fiancée in glowing terms that makes her sound like the rock and roll in their relationship.
Criss clearly wasn't expecting to win the Emmy this year, either. Though American Crime Story: The Assassination of Gianni Versace was highly praised by critics, it was not the same smash hit that the O.J. Simpson season was in 2016, not to mention marred by controversy as some of those depicted in the series, including Versace's family, were unhappy with the details.
The question is, could they be a double Emmy Award family going forward? Though Swier is not an in front of the camera talent, the Emmy Awards are a vast organization with many facets. The Primetime Emmy Awards have 27 categories, and the Creative Arts Emmy Awards have over 100. That's not counting all the Daytime Emmy Awards, the Local Broadcast Emmy Awards, and the Engineering Emmy Awards as well. With Swier behind the camera, she could easily find herself nominated down the line for production work, and make it a his-and-hers Emmy Awards household.
Criss' next project will come next year when he stars in the big screen film Midway, a period drama set in World War II, depicting the Battle of Midway, alongside Woody Harrelson, Luke Evans, and Mandy Moore.