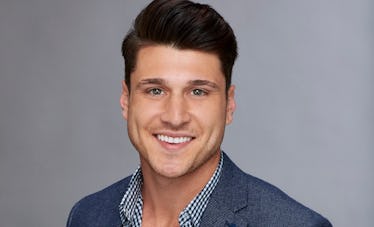 Here's What Bachelor Nation Should Remember About 'Paradise's Newest Addition, Connor
ABC
Things are heating up on Bachelor in Paradise. With couples forming at an alarming rate and new people entering paradise all the time, each new episode is throwing fans for a loop. And the Aug. 27 episode of Bachelor in Paradise is no exception. Connor from Becca's season of The Bachelorette made his way to Mexico this episode and everyone's kind of going wild over his appearance. The hunky contestant was well-liked by Bachelor Nation for is dastardly good looks, penchant for glasses, and unproblematic nature. But just who is Connor on Bachelor in Paradise? And what should everyone know about him?
For starters, Connor's passion in life is fitness
Connor is a certified fitness trainer, according to his website. Plus, his Instagram is chock-full of fitness video and pics. And that makes sense because he has one of the best bods in paradise. Those abs don't come for free, people, and Connor isn't shy about showing his followers how he gets them.
He loves his dog
Connor has a pup named Jordy that is featured in many of his Instagram posts. Ordy actually just turned four and Connor was eager to celebrate with a special birthday post. It's really, really sweet and Connor's wearing his signature glasses in the pic, Which can be found on his Insta.
"Happy Birthday to my Jordy that turns 4 today and I can't even believe it 🎈," Connor captioned the photos, which shows him holding Jordy and a birthday cookie. "Spoiling him with some gifts and a little birthday cookie🎁🍪 Jordy Appreciate Week in full effect"
So, just from that alone, Connor seems like a sweet guy.
He's also a model
Connor models professional and that likely means he'll be getting lots of attention on Bachelor in Paradise. I have a feeling he'll be causing quite a stir while he's on the show.
Speaking of the show, how did he fare this first episode? Well, he started off by eyeing Krystal right off the bat. And she definitely had her eye on him as well.
Since the women have the power this week, all the guys are really feeling the heat now that Connor has entered the picture. Chris, in particular, seemed especially worried even though he talks a big game.
Chris' gal Krystal was all about getting a date with Connor. And luckily for her, Connor was equally excited to take her on a date. They both said in separate on-camera interviews that they came to paradise for the other, so it could be fate!
"You were the person that I came into paradise wanting to meet," Krystal told Connor during an initial chat.
And ...yikes! It seems like Chris is getting left way in the dust. Krystal's attraction to Connor aside, she did explain to him that she was "smitten with" Chris. So, at least she was transparent in that regard.
But that didn't stop her from eventually courting Connor anyway. Needless to say, Connor's presence is breeding all kinds of drama already.