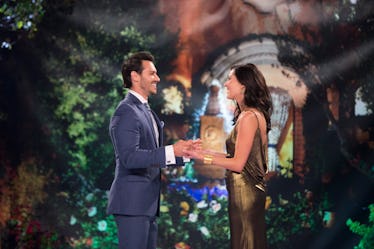 4 Things To Know About Chase Vergason Before 'The Bachelorette' Starts
ABC/Paul Hebert
Bachelor Nation is anxiously awaiting Becca Kufrin's turn as the next Bachelorette. America saw her rollercoaster of a journey — the publicist from Minnesota fell in love with leading man Arie, got engaged on national TV, and then was subsequently dumped on national TV. But despite the buzzed-about relationship saga, Becca's ready for the next chapter in her life. And while an official cast list for Season 14 has not been released, some of her suitors were already introduced. So, who is Chase? The Bachelorette contestant is piquing Bach Nation's interest.
The Bachelor's "After the Final Rose" special was not without its memorable moments. Arie and Lauren got engaged (OK, cool), Becca was announced as the next Bachelorette (cue the live audience cheers!), and five of the men who will be vying for her heart were brought out on the spot to make a first impression pre-limo entrances. Becca has since met the rest of the guys as official filming is underway, and it sounds like the initial encounters were promising. "After meeting the guys coming out of the limo that first night, it just put me at ease and it just makes me so excited to start this!" Becca recently told E! News.
All of the men from "After the Final Rose" seemed like viable contenders. Becca met banjo-playing Ryan, Blake and the (metaphorical) horse, Darius with the compliments and apology, and British accented Lincoln. And there was also Chase Vergason... Here's what we know about him as the clock ticks down to the season's debut.
He Made a Nice First Impression
"I'm ecstatic to be here. I can't wait to go on this journey and adventure with you," he said to Becca nervously, upon their televised meet-cute. "I saw what you went through last night, and my heart goes out to you. I think that everyone agrees with me here that you deserve better than that. I hope I can be that. When one door closes another door opens and I hope to be that open door." Aww. Becca remarked that she like that mentality, so who knows? Seems like a pretty good start.
Chase did seem visibly flustered, but he was meeting a potential girlfriend on television. All the more endearing, I say.
He Was a College Baseball Player
According to The State, Vergason is a former South Carolina Gamecock. Greenfield News reports he played as an infielder throughout the 2012 and 2013 seasons.
Becca has stated she doesn't really have a type and she's said as far as physical traits go, her taste is "all over the board." Arie was also an athlete of a different kind, being a former race car driver. Becca's ex boyrfiend Ross, who you may remember showed up in Peru to win her back, is a sports conditioning coach at Stanford.
He Works in Advertising
Chase's Instagram account is private at the moment, but his bio reveals he's a member of an ad agency based in Orlando, Florida.
He Was Fan of the Franchise
According to what appears to be Chase's Twitter, he used to tweet about the show back in the day. (You may recall Selma from Sean Lowe's season, if you're scrambling your reality TV brain for the reference.)
He even wanted had Bachelor ambitions in 2013.
There are only a couple months to go until Bachelor Nation is reunited with the beloved Becca, as well as the men who are competing for her everlasting love. And in the words of our future leading lady: "Let's do the damn thing." Will Chase win her over? Season 14 of The Bachelorette premieres Monday, May 28 at 8 p.m. on ABC.