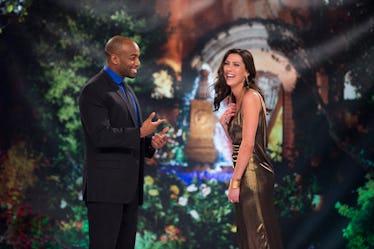 This College Football Player Is Getting Ready To Score With 'Bachelorette' Becca
ABC/Paul Hebert
Becca Kurfin is ready to "do the damn thing" as the next Bachelorette. While she technically "won" Arie's season of The Bachelor, she and the Season 22 leading man didn't exactly have a fairytale ending. Instead, their relationship crashed and burned when Arie decided to publicly break up with her and give runner-up Lauren Burnham another shot. It was the cringeworthy split seen 'round the world, but Becca is ready to move on. She even got to meet some of the suitors that will be vying for her heart on TV. So, who is Darius? He wowed Becca with his first impression. The former college football player is just one of the new Bachelorette contestants Bachelor Nation should get to know now.
Chris Harrison and ABC really wasted no time in getting Becca back on the dating horse after her Arie heartbreak. On March 6's "After the Final Rose," following Becca's explanation of the events surrounding the Arie/Lauren situation and a check-in on where she's at now, it was all about opening up the next chapter. Poof! Arie suddenly faded into the distance (despite proposing to Lauren that very night in same studio as Becca, but whatever), and fresh-faced eligible Bachelors were paraded out to make their first impression on this year's Bachelorette. And you know what? The five guys look promising already.
One contestant named Lincoln ("like the President) called Arie a "wanker" (way to get to a woman's heart), Ryan played the banjo adorably, Chase sweetly reminded her "she deserved better" than Arie, and Blake came out with... a horse. There was also Darius — who was all about the compliments, continuously gushing about her beauty. "I saw the episode last night and I just want to formally apologize on behalf of my gender," he added, regarding the Arie debacle. "Sometimes we mix up our actions with our feelings a little bit, unfortunately. But that's the past and this is the future. I'm here for one reasons. The audience is great and everything, to make friends is great, but I'm here for you, honestly. At the end of the day I just want to let you know I'm excited for this journey with you."
Darius will get a chance to make a formal limo entrance on the Bachelorette season premiere, so we'll have to see what other tricks he has up his suit sleeve. Instagram reportedly reveals he's a 26-year-old former University of Wisconsin football player who now resides in Los Angeles.
Time will tell if Becca and Darius will go the distance when Season 14 premieres this spring. One thing we do know is that Becca does have a thing for a certain former NFL-er. The Minnesota native spilled on The Ellen Show about her dream contestant, and she shouted out none other than Good Morning America's own Michael Strahan as a celeb crush. "I just love the gap tooth," Becca confessed. "Just everything about him." She also noted it would be a "really short season" if the Super Bowl champ were to step out of the limo.
So, what is Becca looking in for in a guy now that Arie is in the rear view? "You know, physical traits... I don't really have a type. I'm all over the board. But personality wise, I want somebody who's honest and loyal. Obviously," the leading-lady-to-be revealed to Ellen. We hear you, Becca! Is that so much to ask?!
We wish Becca the best of luck in her reality TV quest for true love and we look forward to meeting the 20 or so more contestants that will be competing for her everlasting affection. The Bachelorette Season 14 premieres Monday, May 28 on ABC.