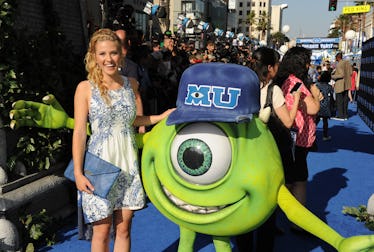 Who Is Caroline Sunshine? The Former Disney Star Works At The White House Now
Kevin Winter/Getty Images Entertainment/Getty Images
The White House has done it again. On Tuesday, March 27, a spokeswoman confirmed that yet another TV star has joined President Donald Trump's administration, 22-year-old actress Caroline Sunshine. For people not familiar with the actress' work, the operative question might be: Who is Caroline Sunshine in the first place?
On the other hand, those familiar with the Disney Channel's lineup of shows throughout the years won't need an introduction. For three years, Caroline Sunshine co-stared in Shake It Up, alongside Zendaya and Bella Thorne. Sunshine played the role of European foreign exchange student Tinka Hessenheffer.
Now Sunshine is working as a press assistant at the White House, and it won't be her first rodeo in politics.
"Caroline Sunshine was a White House intern. In college, she was involved with the American Enterprise Institute and an active member of her school's Model United Nations team," White House spokeswoman Lindsay Walters said in a statement, per CNN. "Prior to her internship at the White House, Caroline interned for the Office of House Majority Leader Kevin McCarthy, the College Republican National Committee and the California Republican Party."
The American Enterprise Institute (AEI) is regarded as one of the most notable conservative "think tanks" in Washington D.C. In other words, Sunshine knows her way around conservative politics.
Sunshine is not a former political pundit, nor does she have any appearances on cable news worth noting, but her hiring does add to what has been a theme of the White House in the month of March: The Trump administration just happens to be adding staff members who used to be on TV and multiple reports say there could be more coming.
The Washington Post is just one of the outlets that has published stories about how and why President Trump could be targeting more cable TV stars. Jason Miller, a former Trump campaign aide and contributor to CNN, provided some insight on the subject to The Post for its reporting.
"This is how most of America communicates. This is not the White House of the 1920s, the 1950s or even the 2000s. He's adding people to his team who can effectively communicate his message," Miller said. "In this day and age, you can have the right policies, but if you can't communicate them, it's all for naught."
Among the hires that the White House has made in March is former Fox News contributor John Bolton, who replaced H.R. McMaster as Trump's national security adviser (NSA). Then there's former CNBC contributor Larry Kudlow, who replaced Gary Cohn as Trump's top economic adviser.
The moves are part of a continuing shuffle of the staff at the White House. which has seen a noticeably large amount of firings and resignations in the year-plus that the president has been in office.
But despite headlines that suggest Trump is hiring people who are merely "talking heads," the White House's newest employees do have experience relevant to their jobs.
Both John Bolton and Larry Kudlow have worked in the White House before. Bolton was the U.S. ambassador to the United Nations under former President George W. Bush. Prior to that gig, he'd worked at the State Department and the Justice Department, and Kudlow was an economic adviser to former President Ronald Reagan.
In other words, these hirings aren't like that of Anthony Scaramucci, another former cable news contributor who suddenly went from Wall Street financier to White House communications director, only to get fired before his official start date.
Oh, and it's probably a good bet that Caroline Sunshine — who also has a history of working in politics, to pair with her TV experience — won't have nearly as dramatic of a time at the White House.