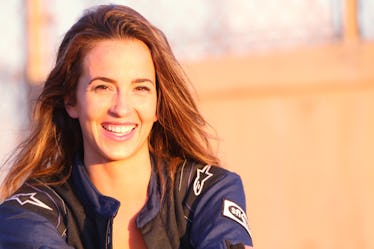 Refresh Your Memory On Caroline, 'Bachelor In Paradise's Newest Quirky Addition
ABC/Paul Hebert
Two fresh faces joined the Bachelor in Paradise roster of contestants on Tuesday, Aug. 14's episode and they both just happened to hit it off with the same guy. BIP's latest intros include Jubilee Sharpe of Ben's season and Caroline Lunny, who competed for Arie's heart on Season 22 before getting eliminated in Week 4. Now that she's back on the reality TV scene, you might be wondering: Who is Caroline Bachelor In Paradise? The franchise alum had a memorable moment on "The Women Tell All."
Caroline is a realtor orignally from Massachusetts who appears to have remained close with some of her fellow Bachelor castmates. While her stint on Season 22 went mostly under-the-radar, she made her presence known when it came to her outspoken comments regarding Arie's, er, indecisive behavior. Arie notoriously proposed to Becca Kufrin, a friend of Caroline's, on the season finale only to dump her so he could give things a shot with runner-up Lauren Burnham. Prior to that brutal televised break-up event, Caroline teased what was to come by calling out Arie.
"This whole time, you've said that you are here because you are trying to find a wife," Caroline addressed Arie. "I know what you did, and I don't know how you could do that. I just really don't understand. But I really hope you found what you're looking for."
Caroline didn't hold back on the "After the Final Rose" special either.
"That's supposed to mean something. It's just hurtful the way he has zero empathy for… the way he says things, it's like he doesn't take her feelings into account whatsoever," she remarked on Arie's approach to his engagement to Becca.
"I think he was in love with the attention [of being the Bachelor]," Caroline explained to Life & Style in May. "Like, when it was all over, he said something to Becca like, 'Oh, everyone cared and now no one cares.'"
Caroline may not have found love during Arie's season, but perhaps she'll be more successful in the romance department in Paradise. She immediately hit it off with software engineer Venmo John — the couple shared a meal and some intimate conversation on her first night in Mexico. When she wasn't being distracted by stray animals (I get it), Caroline revealed that she was recovering from a bad relationship and was just looking to find someone kind and funny, with a good personality. John apparently ticked those boxes since she was smitten with their spark, admitting to Krystal that "there's magic there."
But Caroline's insecurity alarm started to go off when John headed out on a fun jungle date with newbie Jubilee. Jubilee and John's chemistry was evident right away — they got deep about their careers and mutual dorkiness, and engaged in a steamy makeout session.
No matter how Caroline's Bachelor in Paradise journey plays out, her Bachelor pals have got her back. Her Insta is chock full of cute snaps of her and former (and some current) competitors like Becca, Tia, and Chelsea.
What's next for Caroline? Fans will have to wait until next week to see if Caroline receives John's – or someone else's — coveted rose.
Bachelor in Paradise airs Monday and Tuesday nights on ABC.