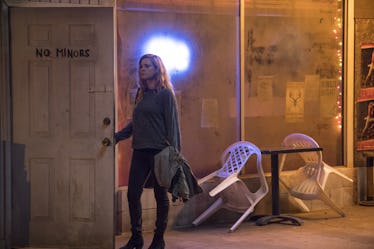 Here's Everything Fans Should Know About Amy Adams' Troubled 'Sharp Objects' Character
HBO
Sharp Objects is the latest stand-alone mini-series from HBO. The story is a southern gothic horror piece, in which a reporter, Camille Preaker (Amy Adams), is sent home to her tiny little backwater town, Wind Gap, Missouri, to investigate the murder of one girl and the disappearance of another, and the possible links between them. But not only is she going home to dig up a few demons, but to face a few of her own as well. Who is Camille Preaker in Sharp Objects? And why is her backstory important to the murders of the girls in Wind Gap?
Wind Gap is one of those small sleepy southern towns where the rich still keep long-term servants who wait on them, and the poor have meth addictions. As Camille puts it, it's a town full of people who are either old money or trash, and she's trash from old money. Her mother, Adora Crellin (Patricia Clarkson), is a socialite in a town where there aren't many like her left.
A lifetime of living such a privileged life has left her mother narcissistic and spoiled. She cannot bear to hear her daughter came home to write stories of the murders happening in town, claiming it's because she "cannot abide by talk of violence," so she pretends Camille is in town for summer break. It is creepy and controlling and gives an excellent indication of why Camille is not quite right.
Camille is not quite right. Even before the show digs into her past, she's shown to be a hardcore alcoholic, one who is clearly flailing at her reporting job because of it. By the time she reaches Wind Gap, things have gotten worse. Camille begins to be plagued by PTSD-style flashbacks once she arrives home.
It turns out when her mother remarried, she had a second daughter, Marian Crellin (Lulu Wilson), who Adora deeply favored over Camille. Marian is now dead. She went into convulsions one night when she and Camille were playing together and died.
Camille has one more half-sister, the much younger Amma, who it seems was a late baby had to try and fill the gap after Camille bolted from Wind Gap to the big city. Amma is now around the age Camille was when Marian died, leading the two of them to bond over their late "perfect" sister whose ghost pervades everything.
Whatever happened in the wake of Marian's death, it's clear Camille has not been able to get past it, and neither has anyone else for that matter. But where Adora's reaction is to keep Marian's room as a shrine to the dead, Camille has taken to self-harming, carving words into her body with a needle, which she hallucinates to be there already.
Even though being in Wind Gap is terrible for her psyche, Camille's editor Frank Curry (Miguel Sandoval), believes she needs to stay in Wind Gap and write about the story. But his concerned check-in phone calls suggest he's also hoping for her to start carving deeper into her own past as well, and maybe find a way to heal by staying on the story, helping to find the killer of these new victims.