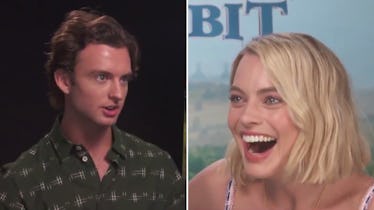 Margot Robbie's Brother Surprised Her During An Interview & The Video Is Too Cute
MTV
Why is it so much fun to discover that huge celebrities have equally awesome siblings? Such is the case with Margot Robbie and her little brother, Cameron. I mean, honey, bro-ha is a fox. He's been slowly popping up in my stratosphere and his latest stunt definitely caught my and Margot's attention. Who is Cameron Robbie? Margot's little brother is honestly the best.
The public recently became hip to Cameron when he shared a super sweet video of Margot learning about her Oscar nomination for I, Tonya. Most recently, he surprised Marg (Can I call her Marg?) on her PR tour for her film, Peter Rabbit.
Margot and her co-star Elizabeth Debicki were waiting for an interview to begin with MTV Australia when Cameron hilariously cruised right on in. It totally took Margot by surprise, and it almost brought her to tears. Cameron tried to play it cool, but you could tell he was loving it.
I'm loving it. Margot's loving it. Cameron's loving it. Elizabeth is like, fine with it. Take a look.
My favorite part is how straight Cameron tries to play it. He hilariously responds to Margot's big reaction and says, "Excuse me, this is a professional situation. Can you just calm down?"
Margot adoringly replies, "This is so crazy! You're an interviewer on MTV!"
And, she's right. Cameron recently became a reporter with MTV Entertainment, covering things like red carpets, celeb interviews, and fun fan events. For example, take this clip he shared of himself raffling off tickets on behalf of the film, Love, Simon.
I'd also just like to direct your attention to this polarizing photo, which is equally if not more important than his surprise for Margot.
Look, if this man wanted to be one endless well of self-obsession and vanity, I would totally get it. But, that's not the case. He has a huge amount of respect and adoration for his big sister and winks at her success all of the time.
For example, he hilariously captioned a photo of himself dressed up as a farmer, "It's weird being the more successful sibling."
He regularly takes to Instagram to share amazing photos with hilarious captions, like the one below:
Sends picture to friend for approval* panics over caption* deletes Instagram* quits job* burns house* moves over seas*
There's literally nothing I love more than a beautiful human with a healthy dose of self-deprecation.
Paris Vogue calls him "Instagram's next star," which checks out to me. At only 22 years old, he has just over 52,000 followers, and that number is only growing. Just throw a couple of pics on his feed with big sis Marg plus some of those abdominal muscles, and he's well on his way to mega-Instagram stardom.
Despite the family's growing fame, Margot once revealed to British Vogue that her family didn't really "get it" when she first wanted to get into acting. She told the magazine,
My family has no connection to the entertainment industry whatsoever, so when I started acting, everyone was like, 'That's fun, but when are you going to actually get a real job?' And that went on for years.
Even with her award-winning performances, she and Cameron are just a regular family at heart. Margot says,
They're [my family] impressed for like five seconds. And then they're, 'So anyway, the dog threw up today.'
I see where Cameron get's his sense of humor from.
Check out the entire Gen Why series and other videos on Facebook and the Bustle app across Apple TV, Roku, and Amazon Fire TV.