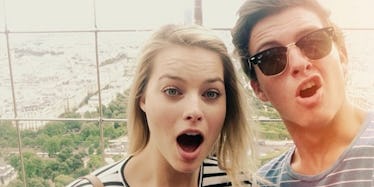 Margot Robbie's Sexy Brother Proves Some Families Get All The Good Genes
We already know Margot Robbie is very, very beautiful, like a tropical fish or food you didn't have to cook yourself.
She's freaking radiant.
Like, stop.
We get it.
Seriously? Even in this melted ice cream cake getup?
OMG. Put that baby down. It's too much.
Oh, Jesus.
Whatever. You get it.
It's no surprise the "Suicide Squad" star shares her beauty with her little brother (is there a less creepy way to phrase that? IDK, probably), Cameron.
Cameron Robbie has a face like a dang Christmas angel.
Is it his perfect teeth? No, wait it's… it's his everything.
It's the whole thing.
Ugh, yes, wear that denim. Throw some pins and patches on there.
Or don't. No one cares. We are all distracted by your bone structure.
How in Voldemort's name is anyone's face this symmetrical?
Oof. That Disney prince jawline.
Glitter? BUT HE ALREADY SHINES LIKE A STAR IN THE SKY.
That pride fest lewk, though. Damn, baby.
FINE, I'll buy a Pepsi.
So thirsty.
Oh good lord, another dog.
Where do the Robbies keep getting these dogs?
Crap crap crap. This hot boy knows other hot boys.
Too many hot boys. Too much sweat on my face. Don't look at me.
Oh, F. He killed a panda with his bare hands and is wearing its head as a trophy.
Christ, that's sexy.
He lives in a cave and bathes in the sea.
His life is a Savage Garden song.
Not the Clark Kent glasses. Please, anything but the Clark Kent glasses.
Everyone in this joint is already too turned on to see Cameron in Clark Kent glasses rn.
NO. DONE. GOODBYE. I CANNOT. I WILL NOT.
Pack your bags. I'm adopting you both.
Even Cameron knows he's super delicious.
You're damn right, Cam.
Someone please write Margot's brother a movie where he plays a hot scientist tasked with saving the world or a super young, radical president tasked with saving the world or just two hours of him slowly eating ice cream.
The world needs this.
Citations: Turns out, hot Margot Robbie also has a hot younger brother (AOL)